Crocs Q2 beats estimates, Skechers misses
July 29 - Footwear company Crocs Inc beat estimates on strong demand, while Skechers USA Inc's loss was wider than expected as fewer people bought its toning shoes and the company got stuck with excess inventory.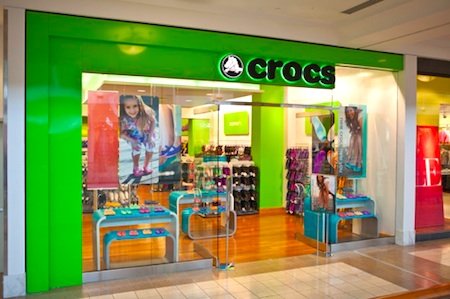 The Crocs Lenox Square Mall store.
Shares of Crocs were up 10 percent in trading after the bell. While Crocs expects a strong second half of the year and its strong sales trends to continue into the back-to-school season, Skechers said it was apprehensive about the future and that the "second half of 2011 will pose more challenges."
However, Crocs said it expects domestic inventory will be down as it heads into the balance of the year.
Crocs, known for its colorful clogs, had lost some of its popularity in the recent past and struggled with falling sales, but it streamlined itself, lowered inventory levels and revamped product designs to get customers back.
For the second quarter it saw 29.6 percent rise in sales. Sales in Europe rose 50 percent, while Asia saw a 37.5 percent rise.
"The diversity of second-quarter sales in Asia was robust with more than half coming from the spring 2011 line," Chief Executive John McCarvel said on a conference call with analysts.
Crocs has seen strong sales in Asia for several quarters now, but the company also posted a 16 percent rise is domestic sales. This gives it a edge over peers as it heads into the back-to-school season -- the second biggest selling season for retailers in the United States.
For Skechers, which is a market leader in toning shoe segment, low demand resulted in a pile up of unsold shoes, which the company had to clear out at high discount rates.
"We aggressively reduced our excess toning inventory during the second quarter by selling two million pairs of our original Shape-ups for a loss of $21.0 million," Chief Financial Officer David Weinberg said in a statement.
Thick, round-soled toning shoes, which claim to exercise leg and buttock muscles by forcing the wearer to work harder while walking, were the highest growing category in footwear till last year, before demand started waning.
Skechers said domestic retail sales was down 10 percent in the second quarter. Sales fell 14 percent to $434.4 million.
Shares of Crocs were up 10 percent after the bell and were trading at $29.55 after the bell. Skechers shares Were unchanged, after closing at $14.30 on the New York Stock Exchange.
(Reporting by Meenakshi Iyer in Bangalor; Editing by Don Sebastian)
© Thomson Reuters 2023 All rights reserved.