Coach is now travelling Coach
Long before today's handbag market became brand-saturated, Coach (COH) was synonymous with practical yet fashionable purses, designed for women who wanted bags made of quality leather that would hold up while they commuted to city centers or drove carpools. With this month's release of the budget-conscious Poppy line, Coach, a luxury-retail marvel once ridiculed for being stodgy, is increasingly associated with an entirely different—and notoriously fickle—population: teens, coeds, and grads.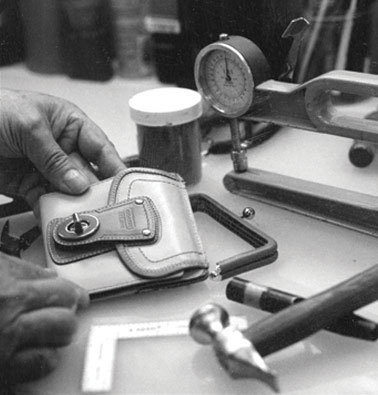 Coach purse production - Photo: www.coach.com
Poppy handbags, like most Coach bags, come in bubble gum palettes, metallic, black and white, and signature and carry the ubiquitous logo. A mishmash, too, of swing packs, rainbow and peace-sign charms and wristlets, "graffiti" scarves, flower-shaped rings, headbands, and sequined ballet flats, the line in part recalls '80s-counterculture-nostalgia crossed with Juicy Couture and Hello Kitty. (The company offers a notebook and pencils to any customer who purchases $200 or more worth of goods.) No doubt Poppy, which already has been seen on Mischa Barton and Haylie Duff, will draw 16-to-25-year-olds, a coveted demographic.
While experts say Coach sells well to women in their 30s, 40s, and beyond (it has graced the shoulders of Eva Mendes, and Eva Longoria Parker), fashionistas who prefer Hermès and Louis Vuitton dismiss Coach as gateway luxury. A competitor called it the "McDonald's of luxury" and one fashion blogger asked during Boom 2.0 whether it is "the scheming social climber of the handbag world." Even the occasional luxury buyer shuns the brand: "I don't want to carry the same bag as a 15-year-old," said a 37-year-old mother from New Jersey.

And yet by all measures, Coach operates with exceptional savvy in the fast-changing, embattled fashion industry. Like scheming social climbers the world over, Coach, which regularly sheds its skin in the form of updates and upgrades, is the envy of struggling brands. Consistently ranked among the most competitive retailers, Coach boasted $3.2 billion in revenue for 2008. Last quarter, the cash-rich company reported net sales totaling $740 million, compared with $745 million a year ago, a decline of about 1 percent—and an earnings drop of 29.3 percent—during the most challenging retail environment in decades. Direct-to-consumer sales, mostly through Coach's 400-plus retail and outlet stores, rose 9 percent last quarter to $634 million, while same-store North American sales declined 4 percent, largely due to the company's decision to control distribution more tightly. In Japan, Coach holds a 14 percent share of the imported accessories market, second only to Louis Vuitton, and it recently hired a new Coach China president.
The relatively good news doesn't end there. Coach's management team has been hailed as exemplary, and the company spends $5 million a year in surveys, tracking, and testing. (Eighty percent of its products are sold directly to consumers.) "The management team has historically been very solid," said Randall Konik, an analyst at Jefferies & Co. Chairman and CEO "Lew Frankfort is dedicated to the business and is very thoughtful about using data to guide the ship." Recently the luxury giant paid out a 7.5 cents-a-share dividend, an unusual gesture for a growth company like Coach that typically preserves capital. Frankfort said in a June 8 earnings call that there is "no better time than during a period of great economic uncertainty to send a strong signal to investors that our business model is healthy [and] vibrant."
That model is changing rapidly. Just two years ago, Coach launched its Legacy collection, which included a crocodile bag for $20,000. This year, Coach is opening fewer stores and closed shops in upscale Palm Beach and Greenwich, Conn. Coach also plans to release more lower-cost bags, even though handbags over $400, which represent 12 percent of the company's sales, performed at the same levels in the third quarter as they did the same period the year before. In 2010, 50 percent of the company's bags will cost from $200 to $300, compared with 30 percent in 2009. Analysts praise the company's chameleonlike ability to adapt rapidly. "Management has been thoughtful and strategic in how they approach this period," said Todd Slater, an analyst at Lazard Capital Markets.
Coach was founded in 1941 as a leather-goods workshop based in Manhattan. A few years later, employee Miles Cahn took over operations and, in 1961, bought the business. Cahn hired designer Bonnie Cashin, the early creator and popularizer of American sportswear who invented the shoulder bag and clutch purse with removable shoulder straps. Cashin, whose influence at Coach endures, introduced brass and metal buckles, toggles and clasps, piping and leather trim to American women, who still wore lined purses that closed with buttons.
The fate of Coach changed in 1979 when Cahn hired Lew Frankfort, a former New York City agency head to run new-business development. The company, sold to the Sara Lee Corp. (SLE) in 1985, remained a sleepy brand until 1995, when Frankfort was appointed chairman and CEO. Frankfort lured Reed Krakoff, a 32-year-old Parsons School of Design graduate and Weston, Conn., native, from his chief marketing officer perch at Tommy Hilfiger. Krakoff, who had also worked at Ralph Lauren, was offered total creative control. Together, Frankfort and Krakoff revolutionized Coach.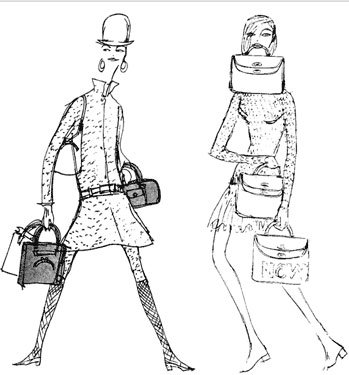 Coach artwork - www.coach.com
Frankfort's $9.6 million total compensation pales in comparison to Krakoff's $22 million, which is unparalleled for a designer who didn't start his own shop. But Krakoff's marketing genius, combined with his design sensibility, has played a pivotal role in propelling the brand to marvel status. While most retailers release new lines semi-annually and perhaps quarterly, Coach flows "newness," to use industry parlance, every few weeks, a nod to the company's entrepreneurial, business-driven culture. "It's not, 'We're a luxury brand this the way we do it,' " said Slater. "Most luxury brands have a snotty attitude toward their customers. If you want a Birkin bag, you have to wait on line for two months unless you're Cameron Diaz. Coach appreciates their customer more."
Like most big luxury brands, Coach is fighting overexposure and consumer fatigue. According to Dana Thomas, author of Deluxe: How Luxury Lost Its Luster, the brand is watered down, in part because it is beholden to its growth strategy. "You have to keep that going somehow with new ideas, new marketing, and new consumer targets. They've sold to above-40s, above-30s and above-25s, the Japanese, and now the 16-25s. It's what Giorgio Armani did with A|X and what Ralph Lauren did with Polo Sport," she said.
Indeed, Krakoff is a grand synthesizer and repackager. If you look more closely at the Poppy line, its influence extends beyond Juicy, paying homage to some of the most revered designers of our time: Pucci, Lilly Pulitzer, Fendi, Tod's, even Gucci. Coach's accessible luxury is democratized elitism even down to its amalgamated design aesthetic.
Once the cornflakes of handbags, Coach is now the everything of handbags, a quintessential American brand with little innovation that offers legions instant status for just a few hundred bucks. Coach has left behind its durable cachet in favor of everyman cachet or, as TBM columnist Mark Gimein calls it, the fat middle. In other words, Coach is what everyone else is, only cheaper.
Product image courtesy of Coach, Inc USA.
By Jill Priluck - The Big Money
© Thomson Reuters 2023 All rights reserved.