Coach Inc commits to moving to NYC's Hudson Yards
Luxury retailer Coach Inc said it planned to buy 600,000 square feet in a tower being built by developer The Related Companies, making it the first company to claim space in Manhattan's Hudson Yards.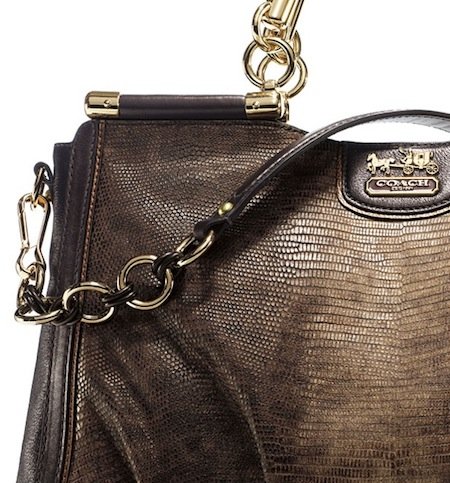 Photo: Coach
Coach said on Tuesday that it had signed a letter of intent to buy the lower third of the 51-story tower, but financial details have not been finalized.
The company currently leases 225,000 square feet at 450 West 33rd Street, and owns its headquarters at 516 West 34th Street and a smaller adjacent building.
The 26-acre site, bounded by West 42nd and 43rd Streets between 7th and 8th Avenues and West 28th and 30th Streets and Hudson River Park, is one of the last under-developed spots in Manhattan. Plans call for a park, "cultural shed" for events, 5,000 residences in nine buildings, 6 million square feet of offices, 1 million square feet of shops, a school and a hotel.
Construction on the tower is due to begin in mid-2012, and it is expected to open in 2015.
Related Companies' chief executive Stephen Ross said his company would eventually move to Hudson Yards from the Time Warner Center, which it also built.
Mayor Michael Bloomberg spearheaded the Hudson Yards development, which requires building a $750 million roof over rail yards.
The city has sold debt to pay for extending the No. 7 subway line west and south from Times Square to the development. The subway link is expected to be finished by late 2013.
"The market has spoken. The far West Side's economic potential is becoming a reality," Bloomberg said at a news conference that was attended by Coach and Related Companies.
Mary Ann Tighe, chief executive of CBRE Group Inc , New York Tri-State Region, and Greg Tosko, vice chairman of CBRE consulting, represented Coach in the transaction.
Bloomberg said he did not think the city risked having an oversupply of office space, despite the 10 million square feet planned for the World Trade Center.
He cited pent-up demand from companies that had wanted new headquarters before the recession and said, "New York is still the magnet; New York is where people want to come."
New buildings usually are more desirable to tenants, said Sam Chandan, chief economist at Chandan Economics.
"While new buildings may result in the overall increase in the vacancy rate, the buildings themselves will perform very well," he said. "It will be at the expense of leases currently in place at other properties."
The Hudson Yards project stalled during the recession, and Related Companies stepped in after another developer gave up the project. Oxford Properties Group, part of the OMERS Worldwide Group of Companies, is a general partner.
Critics of the project have said that developers are receiving too many subsidies from the city. For instance, because the land on which Hudson Yards is being built is owned by New York state's mass transit agency, the city cannot collect property taxes on it. It will get payments instead.
Related Companies has said that it is getting a 40 percent break on payments in lieu of taxes for the first 5 million square feet of commercial space.
But Coach's decision to move to the new tower could help the city's $66 billion budget. New York City must repay interest on $3 billion of subway bonds until the new buildings produce enough tax revenue to pay the interest, probably in 2018.
© Thomson Reuters 2023 All rights reserved.