Clements Ribeiro say fashion in era of exuberance
By Catherine Bosley
LONDON (Reuters Life!) - Design duo Clements Ribeiro, who have dressed Madonna and Nicole Kidman, believe fashion is experiencing a period of particular creativity and are beginning to look for investors for their label.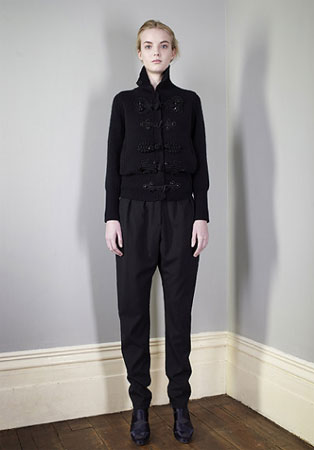 Clements Ribeiro autumn-winter 2009/2010 - Photo: www.clementsribeiro.com
Vogue editor Anna Wintour attended the first public presentation of their relaunched line in a red dress, surveying models in knee-length striped skirts, checkered argyle sweaters and a white princess coat embellished with a black fan motif.
"We think fashion right now is going through an incredibly creative moment, there's such exuberance out there," designer Inacio Ribeiro told Reuters. "We wanted a collection that felt like a sorbet that is cleaning the pallet."
From 2000 to 2007, Ribeiro and his wife Suzanne Clements, whom he met at London design school Central Saint Martins, headed French ready-to-wear brand Cacharel, but the two have decided to start up their eponymous line again after a three-year hiatus.
"We took a sabbatical and then we spent one year tinkering with ideas and reconsidering how we wanted our new business to be," Ribeiro said. "We are self-financed, because then we can retain that independence of the business, which I think is particularly relevant at the beginning."
Ribeiro said that as part of the reconfiguration, he shifted production to France, and limited the production and distribution network. He said the label would likely continue showing in London.
"Obviously, as the business grows, we will be looking into investment," Ribeiro said. "We are looking now, but we expect to find the right deal, the right partnership within the next couple of years."
(Editing by Paul Casciato)
© Thomson Reuters 2023 All rights reserved.