Clémence Poésy is the new face of G-Star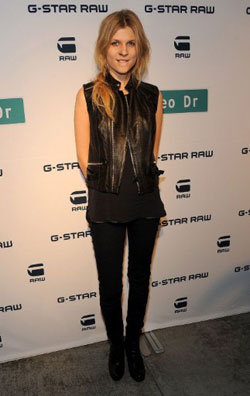 Clémence Poésy (photo by AFP)
As it celebrated the launch of its new Los Angeles boutique last night, the Dutch brand took the opportunity to unveil on its Twitter page the new face of its Spring/Summer 2012 campaign: Clémence Poésy. The French actress succeeds British star Gemma Arterton and American actress Liv Tyler. As for the menswear range, its current model Vincent Gallo, who can be seen on G-Star's current autumn campaign, will also be posing for the next collection for Spring/Summer 2012. As usual, the first images should be revealed at the next edition of Berlin's Bread & Butter, while the whole campaign is set to launch on January 18 of next year.
Aged 29, Clémence Poésy has been on the big screen for over 10 years. The French actress is mainly known for her role as Fleur Delacour on three of the Harry Potter films. She has also starred in 'In Bruges' with Collin Farrell. This year she will be appearing on a new film called 'The Silence of Joan', directed by Philippe Ramos.
Copyright © 2022 FashionNetwork.com All rights reserved.