Christian Lacroix: hanging on by a thread
PARIS, July 6, 2009 (AFP) - Designer Christian Lacroix has had his back against the wall since the fashion house which bears his name went into administration early last month.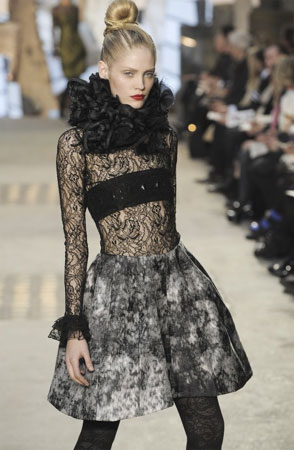 Christian Lacroix, autumn-winter 2009/2010 Paris - Photo: PixelFormula
"What really churns my stomach is wondering what is going to become of the workrooms and, for the moment, none of the solutions I am looking at would save the couture side of the business," he told AFP on the eve of what could well be his last ever haute couture collection on Tuesday 7 July.
If no saviour turns up, the house will close its doors at the end of July and 112 of its current 124 employees will lose their jobs.
Welcomed as a breath of fresh air when he launched his label in 1987 with the support of global luxury leader LVMH, Lacroix was idolised by the fashion crowd, who pelted him with carnations, conveniently left on their seats, at the end of every show.
Whatever went wrong? Administration appears to have been a problem: the company went through a dozen chief executive officers before it was bought in 2005 by the American duty-free giant Falic.
"In 22 years we have well and truly put ourselves on the map, but the business side has never been up to the mark. I think we have never achieved the right relationship with our shareholders," Lacroix admitted.
The house perfume "C'est La Vie" flopped and a diffusion line "Bazar", cheaper than the main ready-to-wear collection, was also quietly scrapped.
"I think of us more as a house specialising in hand-crafted couture than an international label which must concrete over the planet with its products of every kind and wall-to-wall logos," he said, adding "We did bling before anybody else. It's real name is kitsch."
Lacroix is precisely that kind of genius who can turn his hand to anything, from redesigning the coachwork of France's flagship TVG express trains to the cover of its most popular dictionary, the Petit Larousse, or designing extravagant stage costumes.
At the same time he is a very private person, who shuns the celebrity lifestyle. His idea of a summer holiday is a hideaway in his native south of France, with his wife and a few close friends, as far as possible from billionaires and top models with their attendant paparazzi.
"I have always swum against the current. And yet I have always found myself with people who wanted to make a fast buck," he said wryly.
Remembering when he started out in the mid 1980s, the designer who was born in Arles, in Provence, said that in the rarefied world of Parisian fashion "it was considered a bit strange in those days to acknowledge your roots. But since then the south of France, the Mediterranean, has become all the rage, like being mixed race and the nomadic life."
The vibrant colours of his native south have never been far away in his exuberant designs.
For next autumn-winter, it will be "close-fitting silhouettes, sexy but gentle, with something going on at the back, bare shoulders under scarves which highlight them, black tone-on-tone embroidery... the classic repertory of the house, what is left, the hard disk."
Lacroix sold the rights to his own name when he set up his house in 1987. Like other designers before him -- notably lingerie queen Chantal Thomass -- he will have to buy it if he wants it back. "I've no idea what it's worth. But I don't think Falic will let it go that cheaply. But in the worst case scenario, it won't be worth that much and maybe I'll be able to get it back."
Only a privileged few of just over 200 press and customers have been invited to Tuesday (7 July)'s scaled-back show, at which the models are providing their services for free.
The invitation is in austere black and grey, instead of the usual brilliant technicolour. For Lacroix, it reflects the mood of the collection, "a collection which is finished, but which was not completed under the usual conditions. It is like a sketch, a drawing for a painting..."by Marie-Dominique Follain
Copyright © 2023 AFP. All rights reserved. All information displayed in this section (dispatches, photographs, logos) are protected by intellectual property rights owned by Agence France-Presse. As a consequence you may not copy, reproduce, modify, transmit, publish, display or in any way commercially exploit any of the contents of this section without the prior written consent of Agence France-Presses.