Chow Tai Fook to offer 1 bln shares in HK IPO
HONG KONG - The world's biggest jeweller began pre-marketing a planned $3 billion Hong Kong IPO on Monday, as some analysts warned that even with increasing demand for luxury goods among wealthy Chinese, the company's anticipated valuation may not be as dazzling for investors.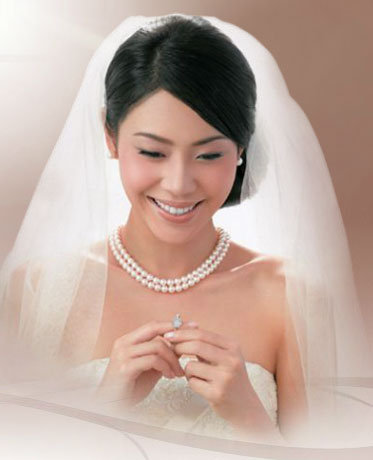 Image by Chow Tai Fook
Chow Tai Fook Jewellery Group, controlled by Hong Kong billionaire tycoon Cheng Yu-tung, is strongly placed to tap cash-rich Chinese mainlanders' insatiable hunger for golden trinkets and all that glitters.
The jewellery retailer's IPO is expected to be one of the largest this year, as the company pushes ahead with its offering in the face of economic uncertainty and an equity offering market that has virtually shut down.
Chow Tai Fook -- which means good luck in Cantonese -- last week cut the deal's size and valuation because of the global market turmoil, but moving ahead with the IPO now could be a signal that listing conditions will only get tougher next year.
Foreign luxury firms are banking on strong Chinese and emerging market demand to offset weaker sentiment in developed countries. London-based jeweller Graff Diamonds plans to raise $1 billion in a Hong Kong listing next year to help fund further Asian expansion.
Italian fashion house Prada listed in Hong Kong earlier this year, and U.S. luxury goods maker Coach Inc is expected to go ahead with its plans for a secondary listing by the year-end.
Prada, which raised about $2.5 billion in its IPO, is to spend some of those proceeds buying into the initial public offering of local handbag maker Sitoy Group, IFR reported on Monday, citing sources with knowledge of the deal.
Chow Tai Fook, more than double the size of Tiffany & Co by revenue, plans to offer 1.05 billion shares, 76.2 percent of which are primary shares and 23.8 percent secondary shares, according to a term-sheet.
Book-building is due to start on Nov. 28, with pricing scheduled for Dec. 8 and listing on Dec. 15.
The jeweller has 1,500 stores in Asia and is one of the best known brands in the region, though it has little recognition in the West. Advertisements for the stores are routinely plastered across buses and subway stations in Hong Kong, where the company has its headquarters.
The 80-year-old company initially planned to sell shares valued at around 30 times its forecast earnings for fiscal 2013, which starts in April. But the market turbulence prompted it to seek a valuation of about 25 times and to sell 10 percent of its enlarged capital, down from the usual 20-25 percent in Hong Kong IPOs, IFR reported last week.
Edwin Fan, analyst at BOCI, said Chow Tai Fook's lowered valuation expectation was still high compared with local rivals Luk Fook Holdings (International) Ltd and Chow Sang Sang Holdings International Ltd, which are valued at 15 times.
"I'd say all three are enjoying the rally in the booming industry, so not one has a hugely significant advantage. You may even see the relatively smaller ones demonstrating growth which is a little bit stronger than Chow Tai Fook," said Fan.
Chow Tai Fook is among just a handful of companies to test investor appetite after market volatility virtually brought Hong Kong's IPO market to a grinding halt. The current fourth quarter is traditionally the busiest period for capital raisings.
JEWELLERY BOOM
Foreign luxury brands not traditionally focused on jewellery, such as Louis Vuitton and Chanel, are starting to see the market as a means to grab a slice of China's appetite for luxury.
Chow Tai Fook, with annual growth of 60 percent, is a common sight on major streets in Hong Kong and China, with up to 6 branches in the same tiny district in Hong Kong.
At one Chow Tai Fook branch in Hong Kong's Causeway Bay district, more than two dozen customers eye the gold, diamond and jade on display -- all from the mainland.
"Around 90 percent of our customers are from the mainland. They are most keen to buy gold bars and gold wedding bangles," said salesman Eric Yu.
While foreign brands Tiffany and Cartier are popular for white gold jewellery, Chinese customers prefer to buy yellow gold due to its strong history in China and investment value.
"They want it for investment, not to wear," Yu said.
GOLDEN ADVANTAGE
CLSA Asia Pacific Markets estimates Greater Chinese demand is expected to account for 44 percent of the global luxury goods market by 2020.
Analysts say Chinese consumers spend an average of 10-12 percent of total household income on luxury items, underlining the high propensity to splurge on high-end goods.
Chow Tai Fook Chairman Cheng Yu-Tung, one of Hong Kong's best known property and retail magnates, also owns New World Development, a multi-billion dollar real estate, retail and transport conglomerate.
Among other offers, New China Life Insurance Co Ltd, the nation's third-biggest insurer, plans to raise about $2.5 billion through a Hong Kong and Shanghai IPO to replenish capital.
Deutsche Bank, Goldman Sachs, HSBC and JP Morgan are handling the Chow Tai Fook offer, sources previously told Reuters.
By Farah Master and Donny Kwok
© Thomson Reuters 2023 All rights reserved.