Chic Young Blood draws 17,000 visitors
Chic has just held its first expo, dedicated to young urban fashion. The event, which was held in Beijing on September 27th through 29th welcomed about 17,000 visitors, mostly from Asia.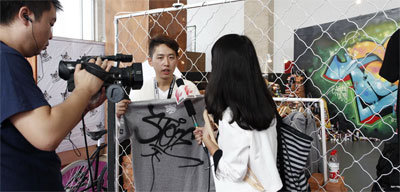 Chic - Young Blood wants brings together young designers.
"This is a unique concept that caters to a young audience, those born in the 80s," Zhu Wei, General Manager of the Chinese label The Thing, said in a statement. While Du Yuzhou, president of the China National Textile and Apparel Council said "This event reflects the spirit of youth culture and fashion. We are confident that Chic Young Blood will become one of the moving forces of the fashion culture in China. Buyers found hundreds of brands including Chinese heavyweights The Thing and Holy Moly, as well as smaller labels from France, Italy and Germany, such as Loft Design By.
The next installment of Chic (China International Clothing & Accessories Fair) will be held on March 26th through 29th.
Copyright © 2022 FashionNetwork.com All rights reserved.