Charming Shoppes posts smaller third quarter loss
Dec 2 (Reuters) - Women's apparel retailer Charming Shoppes Inc (CHRS.O) posted a narrower third-quarter loss as fewer discounts resulted in improved gross margins, and said it entered the fourth quarter with much less carry-over inventory.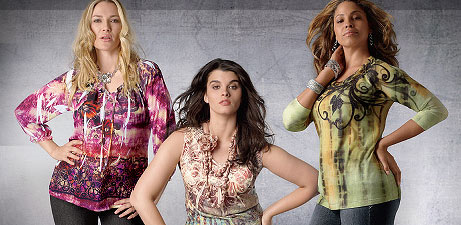 Lane Bryant, a Charming Shoppes brand - Photo: www.lanebryant.com
Gross margins improved to 51.5 percent of sales, from 45.9 percent in the same period last year -- a result of lower inventories and reduced markdowns on seasonal merchandise.
However, the Bensalem, Pennsylvania-based company saw sales fall in all retail chains, led by a 14 percent drop in its Lane Bryant and Fashion Bug stores.
"We did not have a strong enough entry price assortment, nor did we plan strong enough product promotions," Chief Executive Officer Jim Fogarty said in a statement.
During the quarter, the company closed 115 stores, including its Petite Sophisticate Outlet stores, and closed its private label credit operations.
Total operating expenses fell 14 percent to $276.9 million.
For the third quarter, Charming Shoppes, which specialises in plus-sized women's apparel, lost $48.4 million, or 42 cents a share, from continuing operations, compared with a loss of $59.9 million, or 52 cents a share, in the year-ago quarter.
Revenue fell 17 percent to $460.2 million, hurt by lower sales volumes and store numbers. Comparable store sales fell 13 percent, compared with a 14 percent fall in the second quarter.
Charming Shoppes shares closed at $4.80 Tuesday 1 December on Nasdaq. (Reporting by Nivedita Bhattacharjee in Bangalore; Editing by Gopakumar Warrier) (([email protected]; within U.S. +1 646223 8780; Outside U.S. +91 804135 5800; Reuters messaging: [email protected]))
© Thomson Reuters 2023 All rights reserved.