Cavalli, Ferragamo see growing sales to start the year
MILAN, Feb 28 (Reuters) - Italian fashion brands Roberto Cavalli and Salvatore Ferragamo have seen double-digit growth in sales at their own stores in the first two months of the year, signaling improvement in the crisis-hit luxury goods market.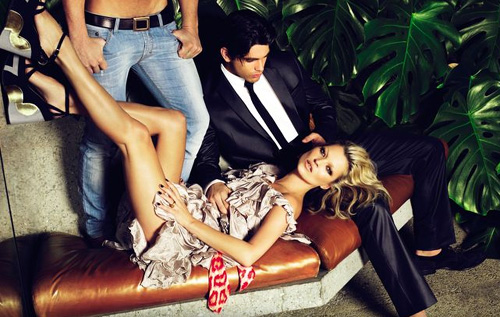 Just Cavalli
The chief executives for both fashion houses told Reuters on Sunday 28 February that caution was still prevailing but the luxury consumer's mood was changing.
Roberto Cavalli, whose designer is known for his animal print designs, saw turnover fall 22 percent last year to about 175 million euros ($237.8 million) -- hurt by financial woes at Italy's Ittierre -- "with a positive EBITDA in excess of 12 percent," CEO Gianluca Brozzetti said.
Cavalli's Just Cavalli line is manufactured under licence by Ittierre, a unit of fashion group IT Holding (ITH.MI), which was put into administration last year and is in the hands of government-appointed commissioners.
"If it were not for that and the crisis in America, I think the brand could have performed extremely well," Brozzetti said at the Roberto Cavalli womenswear show, part of Milan's autumn-winter 2010/2011 fashion week.
"But we are very positive because in the second semester of 2009 and the first two months of 2010 our results grew double digit in all our stores, which means things are getting better."
Ferragamo CEO Michele Norsa said 2009 "came in line or above expectations," helped by better sales in the last two months of the year. He did not disclose figures.
"The first two months (of 2010) were better than expected," he said on the sidelines of the Ferragamo show, adding that retail sales grew in double-digits in January and February.
"We expect 2010 to see a single-digit growth and we hope it will be in the higher range. The recent gains of the yen and the dollar also contribute to growth."
Luxury groups are trying to win back costomers after the economic crisis sapped demand. Sales of luxury goods lost 8 percent last year to 153 billion euros, Bain & Co has forecast.
"There is still a reasonable caution because of the economic uncertainty in some countries. But there is a change in customers' mood. They are buying again," Norsa said.
The Florence-based company, known for its shoes, bags and printed scarves, will open around 30 sales locations this year, he said. Cavalli is looking to boost its accessories line and expand in South America and Asia Pacific.
"We have probably one of the lowest indebtedness. We have just 8 million euros indebtedness so we can look at the future with positive eyes," Brozzetti said. "We are very realistic ... but we can see that the worst is probably over." ($1=.7359 Euro) (Editing by Maureen Bavdek)
© Thomson Reuters 2023 All rights reserved.