Cartier, Montblanc ready for price hikes
(Reuters) - Jewellers and watchmakers Cartier and Montblanc are preparing for further price increases in 2011 to reflect rising precious metals prices and currency fluctuations, the heads of the two groups said on Tuesday.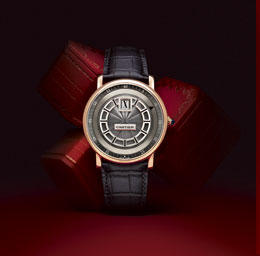 watch Cartier
The two brands, the two biggest within Swiss luxury group Richemont, expressed concern about the uncertain global economic outlook, even though the year had started well.
Montblanc, which is best known for its pens but is also investing in its watch and jewellery businesses, said it planned to lift its prices in 2011 following an average increase of 5 percent in October.
"Certainly, there will be price increases this year," Montblanc Chief Executive Lutz Bethge told Reuters on the fringes of an international watch fair in Geneva. "The price increase of metals such as gold has an impact on our business."
The luxury goods industry has recovered strongly from its worst slump in decades, thanks largely to buoyant demand in Asia.
Richemont, the world's second-largest luxury goods group behind French rival LVMH, posted a 23 percent rise in third-quarter sales on Monday.
And at Burberry, wealthy tourists splashing out on coats and leather goods drove a forecast beating 27 percent rise in third-quarter sales.
Bernard Fornas, Chief Executive of Cartier, said the brand did not exclude raising prices again this year after an increase of 5-7 percent in 2010.
"We could adjust prices again this year depending on the fluctuations we will see in currency and commodity prices," Fornas told Reuters at the same event.
The two brands said they planned to continue expanding their network of shops with a major push into China, their biggest market.
Cartier, which already has 34 shops in China, said it would add an extra 6-7 shops this year and would open another 15-20 shops in the rest of the world, in cities such as Abu Dhabi.
Cartier, which started as a Parisian jewellery shop in 1847, is widely regarded as a powerhouse within Richemont as it accounts for more than half of its profits.
Meanwhile, its sister brand Montblanc said it planned to open 10-20 shops this year, including 3-5 in China and would open its biggest shop ever in Beijing.
Bethge said the new shops would reflect the brand's efforts to develop its jewellery and watches. Bethge he expected watches to overtake pens overall in terms of sales in the next 5-10 years.
But the brand was not planning to venture into new areas such as apparel, he added.
(Reporting by Astrid Wendlandt, Silke Koltrowitz and Nathalie Olof-Ors; Editing by David Holmes and Alexander Smith)
© Thomson Reuters 2023 All rights reserved.