Cartier goes a touch less exclusive for Christmas
Published
today
Nov 18, 2009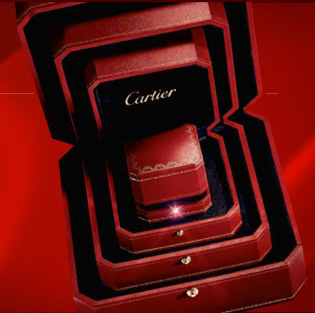 Cartier
By Katie Reid
ZURICH (Reuters) - Cartier, maker of fine jewelry and watches for the wealthy, has expanded its range of more affordable products ahead of Christmas, meaning more than just a select few may find its red boxes in their stockings this year.

Cartier, part of luxury goods group Richemont (CFR.VX), expects this year's Christmas sales to be stronger than the weak 2008 festive period, echoing last week's message from Richemont Chief Executive Norbert Platt.
The brand, which traces its origins back to a Parisian jewelry workshop in 1847, launched its latest collection, "les must," earlier this month and Chief Executive Bernard Fornas told Reuters demand has so far been "very, very strong."
The price tags, pitched between 200 euros ($298) and around 3,000 euros, appeal not only to younger clients but also to more mature shoppers looking for presents for teenagers, Fornas told Reuters.
"To give something to a teenager, you don't want to spend thousands of euros. You may want to find something for 1,000 or 500 euros," he said in a phone interview.
"The sales have gone very, very well. We have had many more purchases than we thought at the beginning," Fornas said, adding Cartier wanted to give clients more choice in this price category in the run-up to the festive period.
The watch and jewelry industry has been grappling with a sharp drop in consumer demand as a result of the most severe economic downturn in decades, while many retailers stopped ordering new stock as a result of weak consumer sentiment.
The collection is available in all of Cartier's 280 boutiques across the world and builds on products the brand already offers.
"We already have products starting at around 300, 400 euros, but we thought our offering was too short at the entry level and we had to widen it a bit," Fornas said.
Earlier this month, Swiss watchmaker Ebel said it was targeting the sons and daughters of wealthy forty-somethings who bought Ebel watches a generation ago and that it would launch more affordable watches at Baselworld watch fair next year.
Fornas said stores had not yet completely finished getting rid of excess stock, but he said Cartier's own boutiques had cushioned the group from much of the destocking phenomenon.
(editing by John Stonestreet)
© Thomson Reuters 2019 All rights reserved.