Carrefour's Indonesia workers may strike over weekend
August 26 - Carrefour's workers in Indonesia may stage a two-day strike over the weekend if a demand to revoke penalties for union officials is not granted by Friday, an union official said.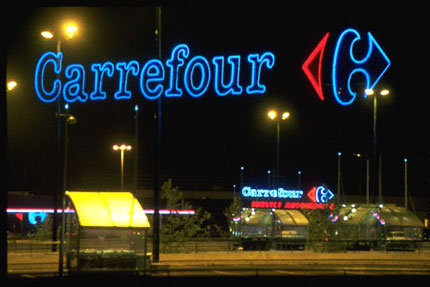 Carrefour supermarket - photo: corbis
The union has been pushing for improved worker contracts in talks this year with Carrefour, Europe's largest retailer and the biggest operator of hypermarkets in Indonesia, and says the French firm has stopped some of its leaders from working.
The strike, if it goes ahead, would fall during one of the peak shopping seasons in Indonesia, as people in the world's fourth-most populous nation rush to buy food and clothing ahead of the Eid al-Fitr Muslim holiday on Aug 30-31.
"We are going to wait for a response from the company until 7 p.m. today, and if they don't answer or ask for more time, we will go ahead with the strike," the head of the Carrefour Indonesia Workers Union Imam Setiawan told Reuters on Friday.
Setiawan estimated that 2,800 members of the union, one of three in Carrefour Indonesia, would join the strike. Company spokesman Satria Hamid said that the union only had 800 members.
Carrefour said it has asked the union to negotiate on their demands, adding that if the strike goes ahead Carrefour's Indonesian operations will not be affected because it has prepared back-up personnel.
A strike at Carrefour would be the third since July, when workers at gold and copper miner Freeport Indonesia and pilots at Garuda Indonesia launched strikes that curbed Freeport's production and delayed dozens of Garuda flights.
Carrefour Indonesia has 83 shops in the vast archipelago, and 28,000 temporary and permanent workers, Hamid said. The country, Southeast Asia's biggest economy, has been seeing buoyant consumer demand this year.
(Reporting by Olivia Rondonuwu; Editing by Neil Chatterjee and Muralikumar Anantharaman)
© Thomson Reuters 2022 All rights reserved.