Caleb Landry Jones new face of G-Star
G-Star is in perfect rhythm with the season. The denim-wear brand took advantage of its Cannes flagship store opening on Tuesday to reveal the new male face of its autumn-winter advertising campaign, actor Caleb Landry Jones. He follows Vincent Gallo and chess megastar Magnus Carlsen. Just as it did for the unveiling of Clémence Poésy at the opening of its Rodeo Drive store, G-Star has created a lot of buzz in the run-up to Bread&Butter in Berlin. The denim brand will unveil in Berlin not only its new female face, who takes over from Clémence Poésy, but also the ad campaign itself.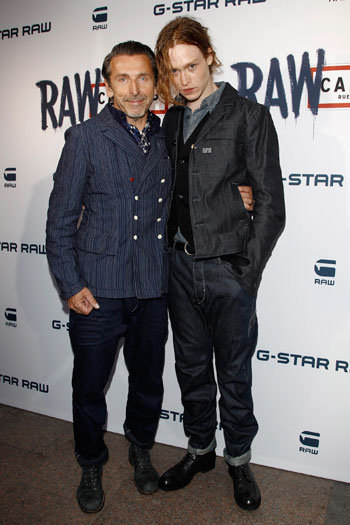 Pierre Morrisset, G-Star designer, and Caleb Landry Jones
G-Star's choice of another actor was apt considering the Cannes Film Festival is currently underway. A rising star, at 22 Caleb Landry Jones is Vincent Gallo's junior by 30 years but has carved out a career for himself in American cinema. He's in Cannes for Brandon Cronenberg's film 'Antiviral' but has already acted in a number of films including 'No Country for Old Men', 'The Social Network' and 'Contraband'.
The new female face of G-Star won't be revealed until the opening of Bread&Butter on 4th July but she could well be one of the many stars attending the party in Cannes, hosted by rock musician Anna Calvi. G-Star has opted once again for Anton Corbijn to shoot the campaign.
Copyright © 2022 FashionNetwork.com All rights reserved.