Burberry moves and redesigns its American headquarters
Last December, Burberry established its new London headquarters in Westminster over 8 floors and 14,864 m². On the 28th of May the brand will be doing much the same, only this time on the other side of the Atlantic. Designed by Christopher Bailey, artistic director of the group, the American headquarters are to be beautifully refitted in order to promote "the British values incarnated by Burberry".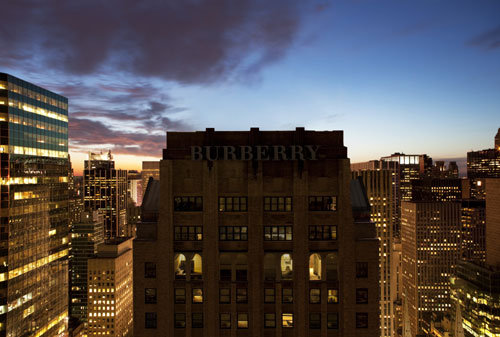 New Burberry headquarters in New York
Decked out in glass, oak, lacquer, marble and glistening blackened chrome, it will take up four floors and cover 6,350 m² in the heart of Manhattan at 444 Madison Avenue - which previously housed the magazines Newsweek and New York Magazine – and will welcome two hundred employees. At the top of this new location will be a 15m long neon sign for the brand; another forward step in a city which already boasts two Burberry boutiques, on East 57th Street and Spring Street in Soho.
"We are all so excited about Madison Avenue. It's such an iconic building which we feel is the perfect new home for Burberry in America and will be another huge chapter in our rich history. The aesthetic mirrors our new global headquarters in London and really emphasises to our American consumer the modern expression of the brand - a balance of what we have always stood for, what we represent today and where we are going", explained Christopher Bailey.
Founded in 1856 in England, Burberry has spread across the world with nineteen boutiques, two hundred and fifty three concessions, forty seven outlets and eighty one franchises.

By Jonathan Fulwell (Source: Julie Mangaud)
Copyright © 2022 FashionNetwork.com All rights reserved.