Burberry Bespoke launches early next year
Burberry announced yesterday during the IHT Luxury Conference the launch of Burberry Bespoke trenches, on an e-commerce platform, where customers will be able to create and customise their own exclusive trench online.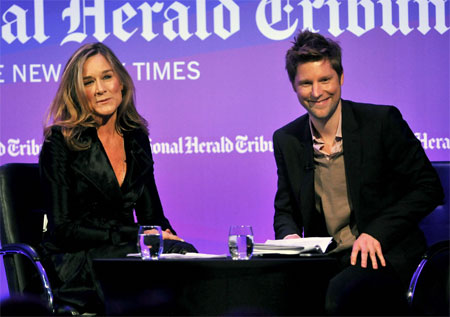 Angela Ahrendts and Christopher Bailey at IHT's Luxury Conference 09/11/10
The announcement was made by the British brand's CEO, Angela Ahrendts, and CCO, Christopher Bailey during their keynote. Burberry Bespoke will be a service launched worldwide offering over 12 million different combinations to its clients by allowing a total liberty in the choice of buttons, fabric, the colour of the check in the lining, but also supplementary details such as spikes, or fur collars as well as leather sleeves and so on and so forth. "Prices will therefore vary depending on the customised look", notes Angela Ahrendts.
"The trench is a timeless icon of the brand created by Thomas Burberry in 1856" reminds Christopher Bailey. The new service for customised trenches will in this manner make their clients kings and they will be able to say as once King Edward VII was known to say -- "Bring me my Burberry".
Christian Layolle
Copyright © 2023 FashionNetwork.com All rights reserved.