Burberry appoints new President Europe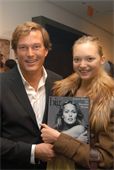 Andrew Maag on left. Photo : Patrick McMullan
Andrew Maag is promoted to President of Burberry Europe, succeeding now retiree Joy Frommer. For the last 4 years he has been Senior Vice-President of Menswear, evolving the business model from licensed-driven to wholly owned. Revenue grew 40% during this time. His new role puts him at the forefront of Burberry's largest market, Europe. Previously Maag held senior positions at Limited Brands, Donna Karan, Banana Republic, and YSL rive gauche.
Paul Price replaces the new European Director with an extended role. The newly created job title Senior Vice-President of Menswear evolves to also include Non-Apparel since today this category accounts for over 30% of the British brand's global sales, making it Burberry's largest product division.
By Rosie Hart
Copyright © 2022 FashionNetwork.com All rights reserved.