Bulgari sees rising 2010 sales after fourth quarter loss
MILAN, March 15 (Reuters) - Bulgari (BULG.MI) chief executive Francesco Trapani forecast rising sales in 2010 as luxury spending picks up helped by product launches, after the Italian jeweller posted its first full-year loss in 26 years.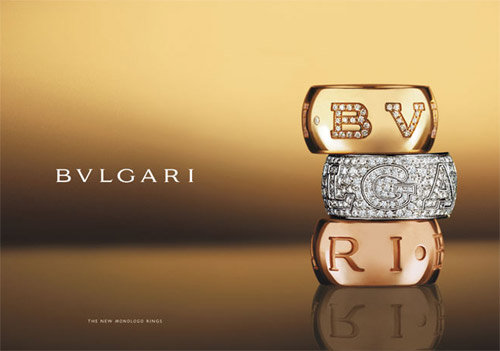 Campagne publicitaire Bulgari
Bulgari said January and February showed a high single-digit increase in turnover with all channels and product categories performing well. "Technically, that means plus 7, 8, 9 percent," Trapani said.
The company posted a fourth-quarter net loss of 13.6 million euros ($18.7 million) as restructuring costs weighed, worse than a forecast for a 28.1 million profit.
It was the group's third quarterly loss in 2009 after it turned in a net profit of 7 million euros in the third quarter.
Trapani said the bulk of 37 million euros of restructuring costs were carried out in the last quarter. Without these, Bulgari would have had a gross fourth-quarter pretax profit of more than 17 million euros.
Trapani, a member of the founding family, told Reuters: "In 2010, I expect restructuring costs equal to zero or immaterial," he said.
The maker of jewellery, watches, accessories and perfumes is carrying out brand image projects as well as product launches that along with initial market indicators allow it to "reasonably expect a mid single digit increase in turnover in 2010 at comparable exchange rates."
Bulgari said in January fourth-quarter revenue fell 5.1 percent to 297 million euros.
Several major names have said they have seen signs of shoppers starting to spend on luxury items again after having felt the brunt of the recession. U.S. rival Tiffany & Co (TIF.N) saw its holiday sales rise, prompting the jeweller to forecast full-year earnings above market estimates.
Bulgari shares closed up 2.1 percent at 6.27 euros before its results.
(Reporting by Marie-Louise Gumuchian and Cristina Carlevaro; Editing by Dan Lalor)
($1 = 0.7274 euro)
© Thomson Reuters 2023 All rights reserved.