Brown Shoe posts second quarter loss
Aug 26 (Reuters) - Footwear retailer Brown Shoe Co Inc (BWS.N) posted a second-quarter loss, hurt by a 21 percent drop in sales at its wholesale division as retailers cut back on inventory levels.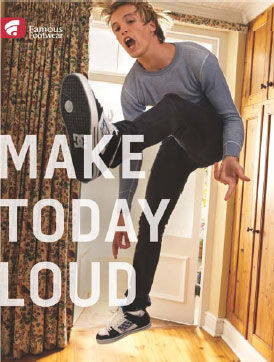 Famous Footwear from Brown Shoe Co Inc - Photo: www.brownshoe.com
Brown Shoe, which saw higher gross margin this quarter, backed its expectation of a full-year profit as it sees itself returning to profitability in the second half of the year.
The retailer, which has cut jobs, reduced capital expenditures and closed stores to protect its bottom-line amid an ongoing sales slump, said it now expects to save more than $40 million in expenses this year.
For the second quarter, the St. Louis-based company posted a net loss of $4.2 million, or 10 cents a share, compared with a profit of $2.2 million, or 5 cents a share, a year ago.
Excluding items, Brown Shoe lost 7 cents a share, in line with analysts' expectations, according to Reuters Estimates.
Revenue fell 10 percent to $511.6 million. Gross margins rose slightly to 39.8 percent from 39.3 percent last year.
Brown Shoe's shares closed at $8.01 Tuesday 25 August on the New York Stock Exchange. (Reporting by Mihir Dalal in Bangalore; Editing by Ratul Ray Chaudhuri)
© Thomson Reuters 2023 All rights reserved.