Brioni discontinues women's line
With growing suspicions regarding the termination of Brioni's womenswear, the Italial label's CEO Francesco Pesci decided to make it official via a press release and confirmed that Brioni is discontinuing its women's line. Some people had seen the closure of its factory in Congiunti, Italy, which was exclusively dedicated to the production of the brand's women's collections, as a sign that this might happen.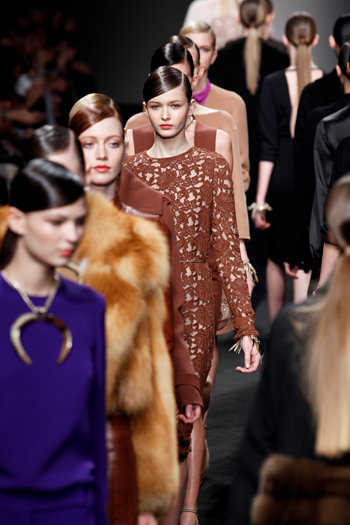 Brioni's last catwalk show during Milan Fashion Week (photo by Pixel Formula.
The CEO explained the decision with the need "to refocus the company's resources on its menswear business". The Italian fashion house has indeed built a good reputation of its luxury ready-to-wear men's line. However, the decision may come as a bit of a surprise given the fact that it had just hired Alessandro Dell'Acqua in 2010 as the new creative director of womenswear, in order to bring a new dynamic to the collections.
The discontinuation of the line thus also comes with the termination of Dell'Acqua's collaboration with the brand. In addition to this, Francesco Pesci announced the cancellation of Brioni's next catwalk show scheduled for the 25th of September in Milan.
However, the CEO denied any links between the new strategic direction and PPR's apparent interest in the fashion house. It is nevertheless tempting to attribute the sudden change of mind to the ongoing discussions between Brioni and the French luxury group, although nothing has been confirmed by the parties involved as of yet.
Copyright © 2023 FashionNetwork.com All rights reserved.