Bloomingdale's has good fall, led by accessories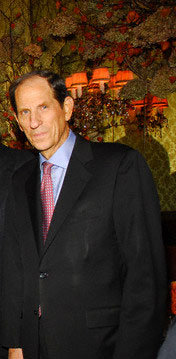 CEO and Chief Executive of Bloomingdale's, Michael Gould
(Reuters) - Upmarket U.S. department store chain Bloomingdale's is enjoying a good fall season, although the rise in sales is not as strong as that recorded during the spring, its chairman and chief executive said on Monday.
Michael Gould told the World Retail Congress that, despite concerns about the strength of the U.S. economic recovery, shoppers were prepared to pay full price for the right products, particularly in accessories, jewellery and homewares.
However, trading was tougher in clothing, he added.
"The fall was good, not quite at the same level of increase as the spring," Gould said.
"Newness is selling and regular price is selling."
Compared with rivals like Neiman Marcus [NMRCUS.UL] and Saks (SKS.N), "I feel very, very good and very happy about how we've done," Gould added, without giving figures.
Bloomingdale's is part of U.S. stores group Macy's Inc (M.N), accounting for about 10 percent of group sales.
(Reporting by Mark Potter; Editing by Victoria Bryan)
© Thomson Reuters 2022 All rights reserved.