Billabong announces the closing of between 100 and 150 stores
Faced with a difficult economic predicament, limping in its traditional arena of sportwear and frought with targeted acquisition rumors, Billabong has opted for tightening its belt by streamlining its retail network.

To mark the publication of its interim results covering the first half of its fiscal year 2011/2012, the Australian group announced the closure of 100 to 150 stores. Its stated objective is to reduce its operating costs by 20 to 30 million Australian dollars (16 to 25 million euros). This would help see its gross operating income grow by 5 to 10 million Australian dollars at the end of its next fiscal year, June 30, 2013.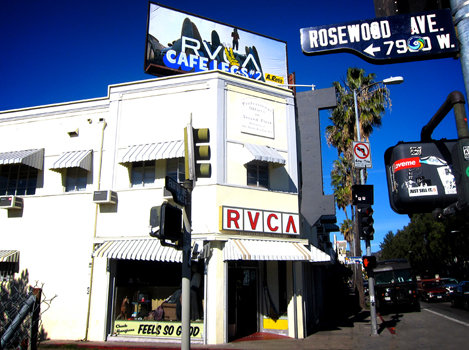 All of the group's brands do not necessarily have the same dynamic;, RVCA (photo), Sector 9, Nixon and Kustom are experiencing strong double-digit growth even as Billabong is fallng behind - RVCA image
In fact, this closure program is likely to entail the elimination of 400 full time jobs worldwide, including 80 in Australia. During these last two financial years the group has relied on acquisitions to expand its retail network, obtaining the Canadian chain West 49 and the Australian retailers Surfection, Jetty Surf and Lifestyle Rush. It now aims to refine the performance of its network and plans to close stores generating losses as well as those performing below expectations. The group has 677 stores worldwide including 250 in the United States, 125 in Europe and 302 in "Australasia".
Meanwhile, Billabong aims for an austerity and rationalization diet for all its regions, which could reduce costs by as much as 30 million Australian dollars.

The results of its first half of 2011/2012, ending December 31, reported Friday, February 17, are of course behind these tough decisions. Sure, the group achieved a growth of more than 6% in sales (before exchange rate) as compared the same period a year earlier reaching $847 million (694 million). It has even received awards for its menswear collections at RVCA and womenswear at Billabong. But its earnings before interest, taxes, depreciation and amortization costs (EBITDA) were down over 18% at 74 million Australian dollars.
The group says the disappointing sales for November and December, due to climatic conditions in Europe and Australia, have hampered its activity. And the rising cost of cotton in its products could only partially be included in the final price. Consumers are thus heavily oriented towards sales and special promotions.
As for the Americas, with over 400 million dollars in sales and an increase of 12% in its EBITDA to the tune of 30 million dollars, remained the main market for the group, and also the most dynamic. Australasia, with 296 million dollars in sales (+12%), is suffering in terms of profitability: its EBITDA fell more than 31% to 27 million. In this area sales in Australia rose by over 18%, but experienced substantial declines in New Zealand, South Africa and Japan. Finally in Europe, sales have stagnated at 150 million and the EBITDA was down 32% at over 15 million.

For its entire fiscal year 2011/2012, which closes end of June, the group expects an EBITDA of 157 million Australian dollars.
Copyright © 2023 FashionNetwork.com All rights reserved.