Benetton heir takes helm to revive faded colours
MILAN - Honed from his days at the helm of his family's Formula One team, Alessandro Benetton retains a competitive streak he must use to fend off nimbler fashion rivals as he takes the reins of the struggling Italian retailer from his father.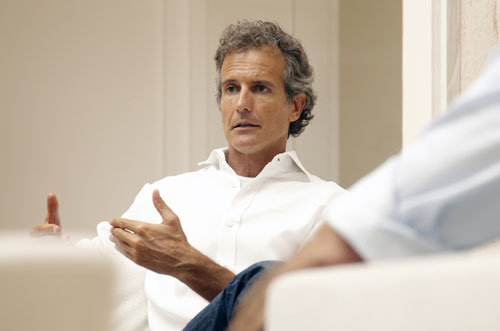 Alessandro Benneton / Photo: Benneton Group
Half a century after the knitwear group was founded by his father Luciano, the heir to the Benetton empire was officially entrusted on Tuesday with reviving a brand which has fallen out of fashion from its 1980s heyday.
Benetton, one of Italy's best known brands with more than 6,500 stores in 120 countries and a reputation for bold colours and controversial advertising, has suffered from the emergence of more flexible rivals like Inditex's Zara and Sweden's H&M.
In January, the family announced it would delist the company after a buyout of minority shareholders and Alessandro believes he can turn things around.
"Alessandro's got a tough job on his hands," a person close to Benetton's management told Reuters on condition of anonymity.
"He is one of the most competitive people I have ever met. He's married to an Olympian but he is the most competition-oriented of the two," the person said.
His Alpine skier wife Deborah Compagnoni won three Olympic gold medals for Italy in the 1990s.
At 48, he is the second-oldest son of Luciano and not unlike other Italian business heirs such as Fiat's John Elkann and Roberta Armani, he had to fend off accusations of nepotism.
This is why the Benetton doyen only handed over to his son an executive role in 2007, after he had established himself as an entrepreneur.
A graduate of Boston University, with an MBA from Harvard, Alessandro, who was described in a recent Elle magazine article as "almost impossibly good-looking", could give Benetton a 21st-century feel.
One of his first personal moves at Benetton was to name a creative director, You NGuyen from Levi Strauss & Co to make the brand more innovative and edgy.
The new chief also regularly updates his Facebook fanpage and a blog in English with reflections on contemporary art, sports and philosophy.
His business experience spans a stint as an M&A analyst at Goldman Sachs and creating private equity boutique 21 Investimenti in 1992, which now boasts more than 1.2 billion euros of investments.
Supporters say he will bring an international outlook and welcome jolt of energy to the 2-billion-euro fashion house, whose sales have remained flat for a decade.
"He has the chromosomes but he has also demonstrated with his past business experience that he is up to the task," said Armando Branchini, president of Italian luxury business consultancy InterCorporate.
"NOT EXACTLY AVANT-GARDE"
While its acid green sweaters and shock advertising campaigns made it an instantly recognisable name from New York to Tokyo thirty years ago, Benetton went from being one of the first global Italian icons to a tired brand.
"Benetton was first made famous in England by Lady Di before she got married," said David Kitt, partner at London-based retail design firm Bauencorp, who describes Benetton's style today as "not exactly avant-garde".
As the 76 year-old Luciano, who still addresses his children in the local Veneto dialect, got older, Benetton failed to keep up with changing trends.
The group's last controversial campaign effort, featuring photo-shopped images of the Pope kissing a prominent imam, was unsuccessful in kick-starting sales, critics said.
"These campaigns are a thing of the past, the hallmark of another era," InterCorporate's Branchini said. "They need one-to-one, digital communication."
Insiders say the group's franchisee model is also a problem, as it makes it difficult for Benetton to transfer its retailing know-how to stores. Benetton has tried to tackle that by opening more fully-owned stores and closing some in second-tier cities.
"Their stores are not inspiring but I'm not convinced that is the problem. As someone said to me the other day - whenever the clothes don't sell they blame the fixtures!" Kitt added.
However, Alessandro will have more leeway now that the company is going private after a quarter of a century on the Milan stock exchange.
"I am aware of the uphill work there is ahead of us," Alessandro said on Tuesday in the family stronghold of Ponzano Veneto, near Venice, where he lives with his three children.
"Our work plan for the next 3 to 5 years is a tough one. But it's not all dark, there are expanding markets that we are ready to attack," he added.
© Thomson Reuters 2023 All rights reserved.