Benetton family buys 2% stake in Club Med
By Noelle Mennella and Sudip Kar-Gupta
PARIS, June 19 (Reuters) - Holiday resort group Club Med (CMIP.PA), which is trying to fend off the attentions of flamboyant French businessman Bernard Tapie, found an ally in the form of Italy's Benetton retail family on Friday 19 June.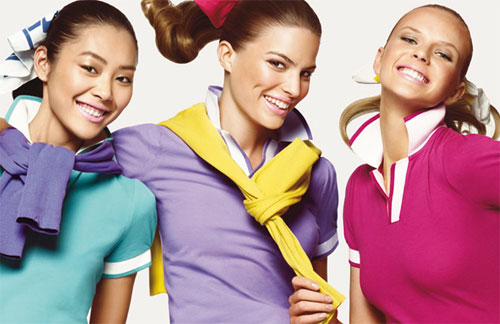 United Colors of Benetton
The French company said the Benetton family (BNG.MI) had bought a 2 percent stake in the firm, whose recent losses have made it vulnerable to Tapie's public attacks on Club Med's management and strategy.
"The Benetton family is an industrial partner and an ally of Club Med," a Club Med spokesman told Reuters.
Club Med's tussle with Tapie has captivated much of France due to the personalities involved.
In one corner is Tapie, a former disgraced politician, soccer boss and occasional pop star who has rehabilitated himself as a TV celebrity. In the other stands Club Med chief Henri Giscard d'Estaing -- the son of former French President Valery Giscard d'Estaing.
Tapie is considering forcing Club Med to change its management and business plans after the group posted a first-half net loss of 22 million euros ($30.63 million).
Club Med, for its part, has taken legal action against Tapie over his remarks about the company.
In order to strengthen its defences against Tapie, Club Med last month launched a 102 million euro capital increase.
Following this capital increase, the company now has a roster of shareholders to back it up against Tapie.
Caisse de Depot et de Gestion du Maroc has 10.97 percent of its capital, Middle East hotels and building company Rolaco Group owns 4.69 percent, Air France Finance 2 percent (AIRF.PA), French bank Credit Agricole (CAGR.PA) 4.2 percent and Japanese insurer Nippon Life has 2.98 percent.
Tapie, a former Socialist minister under President Mitterrand, has clawed his way back into public favour after a spectacular fall from grace in the early 1990s.
The businessman, who was also a one-time president of soccer club Olympique Marseille, resigned from government in 1993 after he was placed under formal investigation by a judge for complicity in corruption.
He was found guilty and sentenced to several months in prison. He has since turned to acting and sports commentary.
Club Med shares closed up 6.7 percent at 10.95 euros on Friday 19 June, giving the company a market capitalisation of around 283 million euros. The stock fell 72 percent last year. ($1=.7183 Euro) (Editing by David Jones)
© Thomson Reuters 2023 All rights reserved.