Bench t-shirts for French rock festival
Bench brand and music is love story that has lasted a while... well since the 1980s. Twenty years on, new technologies add themselves to the mix, with the birth of the Internet, "Bench Live" is completely dedicated to the collaborations and musical events surrounding the British brand.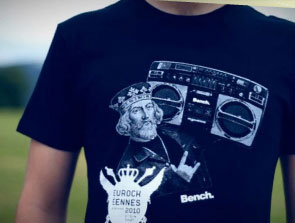 Eurockéennes's Bench T-shirt
The French rock festival 'Eurockéennes' is one example that joins up with Bench this summer and will be relayed via live interviews.
As 'Eurockéennes' has now become an official partner, the brand launches a special limited edition t-shirt collection, sold at the festival for 27 euros.
Original in French by Julie Mangaud, English version by Rosie Hart
Copyright © 2023 FashionNetwork.com All rights reserved.