Barbie opens first flagship store in Shanghai
By Royston Chan
SHANGHAI (Reuters Life!) - Mattel's Barbie opened her first flagship store on Friday, a fuchsia-infused six-storey showpiece on a glitzy Shanghai thoroughfare where the toymaker hopes to revive the 50-year-old fashion doll's fading fortunes.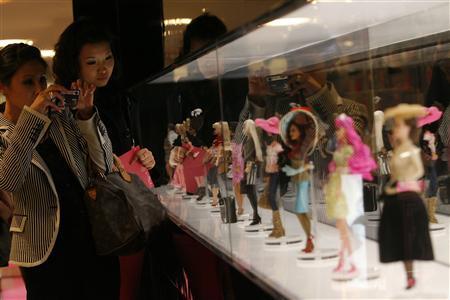 Film stars Jet Li and Cathy Chung mingled with models posing as life-sized Barbies and Kens as crowds thronged Shanghai Barbie's cafe, fashion stage and three-storey spiral staircase lined with displays of dolls.
The store will also be a testing ground for new marketing strategies and services, including a design center where visitors can create their own dolls.
"I feel so happy to be able to see so many Barbie dolls. They are so beautiful and I have never before seen so many of them," said 8-year-old Li Yuqin from Shanghai.
Mattel, the world's biggest toymaker, hopes the store and the concepts on trial there will help Barbie bounce back against tough competition from edgier dolls, video games and electronic toys.
Sales of Barbie, Mattel's flagship brand, have been slipping even faster than the company's recession-hit revenue, dropping 21 percent in the fourth quarter compared with an 11 percent slide in total company sales.
"Where we're going in the future is ... how to experience the Barbie brand. That's what this store really is," said Richard Dickson, a senior vice president in charge of the Barbie brand.
He said China, where Barbie sales are relatively small despite wide brand recognition, was chosen as the site for the first flagship store due in part to its large population and vast market potential.
Another attraction, he said, was the potential appeal of Barbie in newly affluent urban areas of China not just to young girls, but to their mothers as well.
"Moms who were interviewed with the expectation of understanding what they felt about Barbie for their daughters -- Barbie resonated for them," Dickson said.
"A lot of moms today in China grew up knowing Barbie but perhaps not being able to get a Barbie doll."
Dickson played down the competitive threat to Barbie from the Bratz doll line, a $1 billion-plus franchise for smaller rival MGA Entertainment that became the subject of a court battle over alleged copyright infringement.
"With 108 careers and counting, Barbie has inspired millions and millions of girls to achieve amazing things," he said.
(Writing by Edmund Klamann; editing by Paul Casciato)
© Thomson Reuters 2023 All rights reserved.