Barbara Bui moves production to Europe
May 25 - Barbara Bui, one of France's few listed fashion brands, is repatriating part of its production from Asia to Europe to improve quality and sales, which it expects to rise just under 10 percent this year.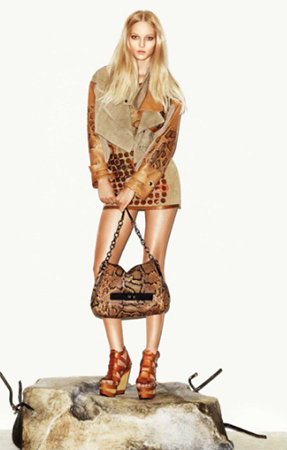 By Astrid Wendlandt and Pascale Denis
The brand, known for rock-chic leather jackets and studded outfits, was hit hard by the financial crisis but is expected to post a small net profit again this year despite the cost of opening a flagship store in Los Angeles, its deputy head said.
"The year has started very well for us, wholesale distribution networks are in a recovery phase," Barbara Bui Deputy Chief Executive Jean-Michel Lagarde told the Reuters Global Luxury and Fashion Summit in Paris.
He said he expected the brand's wholesale revenue, which makes up two-thirds of sales, to rise 7-8 percent this year, while revenue from its 13 boutiques should increase 8-10 percent.
Sales slipped to 29.3 million euros ($41.3 million) last year from 30.2 million in 2009 as wholesale trading remained sluggish.
Barbara Bui had cash of 4.3 million euros at the end of the year, which it said was enough to finance new shops this year, including a new outlet in Beirut.
The company stopped its cheaper second line five years ago in spite of its commercial success and is now focused on moving upscale and developing a luxury image, a strategy that has led it to switch part of its production to Europe.
"We are currently in a wave of repatriation of our production even if that means higher costs," Lagarde said. "For example, we tried to make bags in Asia but the quality was not high enough."
Barbara Bui bags sell on average for about 800-1,200 euros, while its dresses go for 900-1,400 euros.
Lagarde said having production in countries such as Romania, Bulgaria and Hungary, as opposed to Asia, facilitated regular interaction with manufacturers, tighter quality control and allowed products to get to market faster.
Meanwhile, production in China was becoming increasingly expensive compared with other Asian production centers such as Vietnam.
He said the brand's Asian sourcing had been cut to 15 percent from close to 30 percent about two years ago.
Created in 1983, Barbara Bui is controlled by Chief Executive William Halimi, who owns 40 percent. His father holds 6 percent.
Halimi's ex-wife and designer Barbara Bui owns 20 percent, while the remaining third is traded on the Paris stock market.
The brand, which is sold in department stores such as Printemps in Paris and Gum in Moscow, floated in Paris in 1998 at 22 euros a share.
The shares reached a peak of 92 euros in March 2007 but fell sharply in 2008 and 2009. They have more than doubled since January 1 and are now trading at nearly 40 euros, valuing the business at around 24.5 million euros.

By Astrid Wendlandt and Pascale Denis
(Editing by James Regan)
© Thomson Reuters 2023 All rights reserved.