Banana Republic misses Champs-Elysees target
Really, life is hardly easy for anyone who wants to settle on the Champs-Elysees. We all know too well that H&M's challenge lasting several years to open on the Champs-Elysees was finally recently overcome. This time it's the American label, Gap Group's Banana Republic that is facing trouble from CDAC, the French regional commission in charge of the "toughest street in the world" as its application to locate a shop area next to the roundabout is being refused.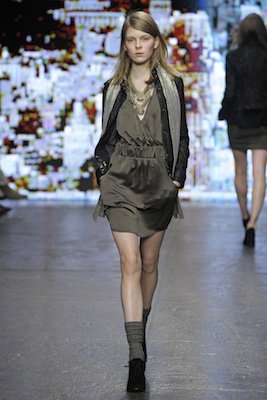 Banana Republic model
As expected the French are noticing consequences to the policy implemented by Paris' Mayor that is trying to limit the number of clothing stores being opened on the avenue. To add to this, the location, marketed by Cushman & Wakefield, also seems somewhat cursed. Before Banana Republic, the area was wanted by Go Sport, whom then decided not to come. At the time the company was closing many of its Parisian stores. Then, Dolce & Gabbana considered the site for its second D&G line but the luxury label also eventually declined.
The U.S. brand obviously still has hope. It plans to file a case to the national commission (CNAC) in February-March 2011.
It is true that the future is optimistic to those brands that have the patience to wait and the determination to win the Champs-Elysees location. Abercrombie & Fitch is expected there in May. Levi's has also eventually got approval. Meanwhile, the next opening is that of Tommy Hilfiger in mid-November.
Original by Jean-Paul Leroy. Translated by Rosie Hart.
Copyright © 2023 FashionNetwork.com All rights reserved.