Baci Lingerie sees the big picture for its launch
Intentionally provocative, the new Baci Lingerie brand wants to be talked about. Its development forecast is equally provocative: the American brand is looking at 3000 store openings in 5 years. In France as well as in 24 countries worldwide (in North America, Europe, the Middle East and Australasia), the brand has found its exclusive distributor. A subsidiary company Baci Lingerie France has emerged this summer under the leadership of 1979 Diffusion. And here again, we have an ambitious roadmap whose goals include opening fifty stores in 3 years, according to Stéphane Coquelet, the sales manager to whom the distributor has entrusted the brand.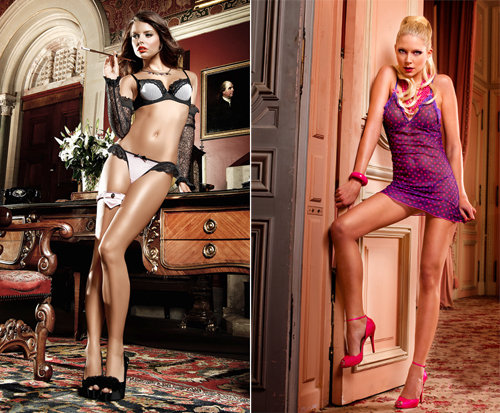 The black line and white line of Baci Lingerie, left and right, respectively.
With 15 years' experience in lingerie distribution at Dim and Le Bourget SA, Stéphane Coquelet has put together his team and distribution network by targeting multi-brand department stores, mail order and e-commerce players, with the hope that ultimately these would make it possible to start a franchise program.
The commercial director believes there is a place for Baci Lingerie in France, saying: "There are certainly other players in the market offering sexy lingerie, but none of them correspond to our price positioning which allows us to offer beautiful things at 15.90 and 29.90 euros a piece." Like the competition, he does not worry that the sexy imagery will putt some people off: "The brand works because of the suggestive image and atmosphere of its campaigns, but the models we use are quite varied and represent a wide range of women." The range is therefore divided into two lines – the White line which is provocative and colorful and the Black line which is more glamorous than sexy and provides more coverage.
A unique feature of the brand is that it does not revolve around a season-by-season concept, but rather has an arsenal of 2000 themes and references which it intends to use to renew its image several time a year all the way until 2013. Another feature, the brand's rapid and unique deployment which can be surprising in this market, can be explained by the mysterious investor behind Baci Lingerie – an anonymous Florida-based German investor which refuses to disclose its identity. The brand has also been able to open within a few short weeks a dozen stores in the U.S. as well as the Middle East, Britain, Spain, the Netherlands, Germany, Mexico and Lithuania. This winter, before its openings in France, the brand will sponsor the Salon International de la Lingerie for the second time, which it hopes to take by storm.
Copyright © 2023 FashionNetwork.com All rights reserved.