Avon has plan to revive US sales
By Jessica Wohl
CHICAGO, April 15 (Reuters) - Avon Products Inc's (AVP.N) plan to ignite U.S. sales growth is good, but it will take some time for new strategies to pay off, analysts said on Thursday 15 April.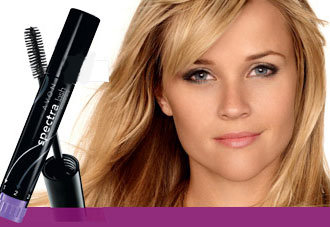 Avon Spectra Lash Mascara
The world's No. 1 direct seller of cosmetics is getting ready to introduce several products in the next few months, and is taking steps to preserve customer relationships even after representatives who sold to them quit.
Avon is doing this because its sales in North America, its second-largest market, slid over the years, in part because of the recession and competition from established retailers that cut into Avon's historical "Avon Lady" direct sales model.
Avon plans to start selling Tiny Tillia children's personal care products in early 2011 and will add more adult hair care products to its lineup, according to analysts who attended Avon's U.S. sales leadership conference in Las Vegas earlier this week. It also wants to focus on women who spend more money, they said.
Avon declined to discuss the conference.
While Avon has several strategies, such as introducing a "Lotus Shield" anti-frizz hair treatment this summer, Stifel Nicolaus analyst Mark Astrachan said he does not expect U.S. sales will grow until at least 2012.
Avon has seen more representatives sign up in North America, but women are spending less money. North American revenue fell 7 percent in the fourth quarter and 9 percent in 2009. In 2008, North American revenue fell 5 percent.
In the fourth quarter, North America was Avon's only region to post a sales decline besides China, its smallest market. Earlier this week, the company came under scrutiny after suspending four executives pending an internal investigation of bribery allegations in China.
Avon has said that regions such as Latin America are more crucial for growth than the United States. Latin America is the company's largest market, far bigger than North America.
SELLING MORE OF ITS MAIN GOODS
The efforts in North America come as Avon works on deriving more of its sales from its core beauty products category.
In October, North America President Geralyn Breig said that Avon aimed to bring non-beauty items from 45 percent of U.S. sales to 35 percent in five years or less. Non-beauty items include jewelry, apparel, kitchen tools and home accessories.
Breig presented a five-step growth plan on Wednesday 14 April with a goal of increasing sales to $3 billion from $2 billion, according to Caris & Co analyst Linda Bolton Weiser. Breig also wants an operating margin of 10 percent, Weiser said, which would be up from 6 percent in the fourth quarter of 2009.
Weiser expects North American sales to fall 6 percent this year and predicted only modest growth in 2011.
Another strategy, called "Customer Connect," will launch in September, Wedbush analyst Rommel Dionisio said.
If a sales representative leaves, as often happens in a direct sales model, that representative's customers do not have a way to buy products. Under the new program, Avon would reach out to the departed representative's customers to encourage them to buy from another local representative, Dionisio said.
Such a program "could have a significant long-term positive impact on customer retention," Dionisio said.
Avon may also start selling the recently acquired Liz Earle skin care line, which is from the United Kingdom, in the United States, analysts said. Astrachan also said that Avon plans to bring out new skin care products under its Anew brand. (Reporting by Jessica Wohl. Editing by Robert MacMillan)
© Thomson Reuters 2022 All rights reserved.