ASOS says recent trading buoyant
By James Davey
LONDON (Reuters) - Strong demand for jumpsuits, playsuits, peg leg trousers and eighties style shoulder-padded tee shirts helped Internet fashion retailer ASOS post buoyant recent trading on Monday 27 April.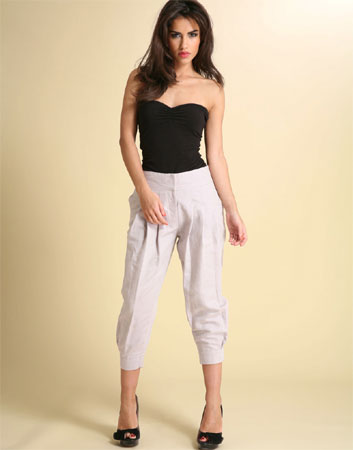 Peg leg trousers at www.asos.com
The group, whose ASOS.com website targets internet-savvy 18 to 34 year olds looking to emulate the designer looks of celebrities such as Kate Moss and Victoria Beckham but at a fraction of the price, said sales for the four weeks to April 24 increased 80 percent year on year, with international sales up 173 percent.
"The three things that seem to be battling through these bad times, one is young fashion, two is the Internet and three is the weak pound helping international sales. We're ticking all three of those boxes," Chief Executive Nick Robertson told Reuters.
ASOS forecast a year to March 31 2009 pretax profit "slightly ahead" of market expectations.
It said sales over the year rose 104 percent to 165 million pounds.
Prior to Monday's update analysts were forecasting a consensus pretax profit of about 13.8 million pounds, according to Reuters' Estimates, up from 8.3 million pounds in the previous year.
Shares in ASOS, which have increased in value by a third in the last three months, were down 1.75 pence at 365.5 pence, at 0831 GMT, valuing the business at 265 million pounds.
"ASOS deserves a healthy premium rating versus the sector to reflect its vastly superior current sales growth, enormous growth potential and its cash generation," said Altium Securities analyst David Stoddart in a research note.
The group, formerly known as As Seen on Screen, ended the year debt free and with 13.6 million pounds of cash.
Many retailers have struggled over the last year as consumers have cut back on spending amid sliding house prices, soaring unemployment and fears of a deep recession.
But ASOS has been bucking this trend, benefiting from a young core customer base and the migration of retail spending from the high street to the Internet.
"Whilst we are being more conservative in our planning for 2009/2010, we believe the outlook is still very positive, and we look forward to another year of strong growth," said Robertson.
He added that the possibility of ASOS commencing dividend payments in the 2009/10 year remained under review.
(Editing by Rupert Winchester and Mike Nesbit)
© Thomson Reuters 2022 All rights reserved.