ASOS sales up 56%, won't raise prices
LONDON, Nov 8 (Reuters) - British online fashion retailer ASOS (ASOS.L) said its shoppers will not face the price rises other firms have warned are on the way in 2011 as it posted a 59 percent rise in first-half profit.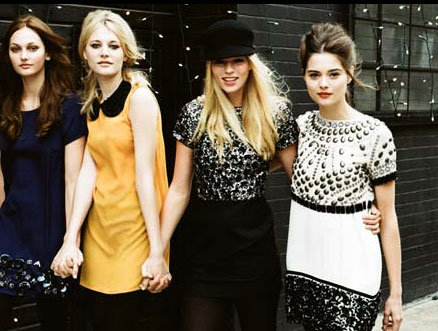 Asos.com
ASOS, which targets internet-savvy 18- to 34-year-old women looking to emulate the designer looks of celebrities like Kate Moss, Sienna Miller and Alexa Chung but at a fraction of the price, on Monday pledged not to raise the price of its own-brand products which represent half of its total offer.
That is in stark contrast to rivals such as Next (NXT.L), Britain's No. 2 fashion retailer, which last week warned its shoppers face near double-digit price rises for clothes next year due to the soaring price of cotton.
"Because we're going back to our suppliers and increasing our orders by 50 percent, we can negotiate hard on that basis," Nick Robertson, CEO of the fast-growing firm, told Reuters.
ASOS said it was on track to meet full year to end-March 2011 consensus market forecasts for pretax profit of about 28 million pounds ($45.31 million), after making 7 million pounds in the six months to Sept. 30, up from 4.4 million in the same period last year.
Shares in ASOS have more than doubled over the last six months, fuelled by buoyant trading and speculation the firm could attract a bid from companies as diverse as Danish shareholder Bestseller, U.S. internet giant Amazon (AMZN.O) and British retailers Marks & Spencer (MKS.L) and Tesco (TSCO.L).
SALES SURGE
The stock was down 2.5 percent at 1,229 pence at 1033 GMT, while the FTSE Mid 250 index .FTMC was off 0.2 percent.
"The issue about ASOS is what PE (price earnings ratio) is justified by circa 30 percent earnings growth. Although the shares have come off recently, we think a PE of nearly 52 times is way too high," Nick Bubb, analyst at Arden Partners, said.
First-half revenue increased 45 percent to 139.7 million pounds, with UK retail sales up 26 percent and international retail sales jumping 120 percent, while retail gross margin rose 2.8 percentage points to 47.4 percent.
"Unlike last year when we were stocking down, we're stocking up, so Q3 to Q4 should be very strong for us," said Robertson, highlighting aviator jackets, capes and party dresses as the season's hot items.
He was positive about the 2011 outlook despite government spending cuts and tax rises, pointing to the structural shift of spending from the high street to the internet and ASOS's global potential.
"The UK is only 2-3 percent of global internet traffic. So when we look at the size of the prize for ASOS, 97 percent of my effort is focused outside of the UK," Robertson said.
ASOS launched a website in the United States in September and, since the period end, has launched French and German sites. Analysts expect a Chinese site within six months.
($1=.6179 Pound)
(Editing by Mark Potter and David Hulmes)
© Thomson Reuters 2022 All rights reserved.