ASOS sales jump, shares fall on lack of upgrade
LONDON, Oct 14 (Reuters) - British online fashion retailer ASOS (ASOS.L) said it was on track to meet full-year profit forecasts after a 47 percent jump in second-quarter sales, led by demand from abroad and sales of aviator jackets and capes.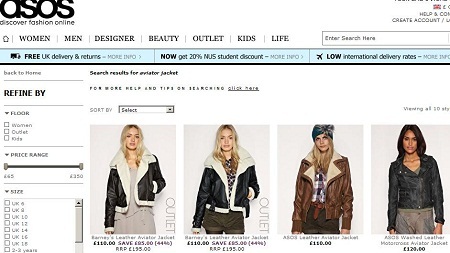 Aviator Jackets on Asos.com
ASOS shares, which had more than doubled this year, fell around 6 percent as analysts worried about a slowdown in British sales growth and expressed disappointment that profit expectations were not raised.
"We think there has been too much focus on the early growth in the U.S. market and not enough on the increasing signs of slowing UK growth (and increasing online competition from the department Stores and the likes of Zara (ITX.MC) and H&M (HMb.ST))," said Arden Partners analyst Nick Bubb, trimming his rating on ASOS shares to "sell" from "reduce".
"The shares may have needed an upgrade (to profit expectations)," said Singer analyst Matthew McEachran.
ASOS targets internet-savvy 18-34 year-old women looking to emulate the designer looks of celebrities like Kate Moss, Sienna Miller and Alexa Chung at a fraction of the price, and enjoyed soaring sales throughout the recent recession.
Retail sales jumped 47 percent to 69.7 million pounds ($110 million) in the three months to Sept. 30, the company's second quarter, down from 54 percent in the first quarter but towards the top end of expectations.
Overseas sales growth accelerated to 128 percent from 111 percent, helped by the launch of a U.S. website towards the end of the period. However, British sales growth slowed to 21 percent from 32 percent.
Chief executive Nick Robertson said this was more to do with changes in the comparable figures from last year than a sign of a slowdown in spending as Britons brace for higher taxes and public spending cuts to rein in government debt.
He also said the big growth potential for ASOS was overseas. After websites in France and Germany, the group was expected to target a major Asian market, probably China.
Robertson declined to comment on speculation ASOS could attract a bid from companies as diverse as Danish shareholder Bestseller, U.S. internet giant Amazon (AMZN.O) and British retailers Marks & Spencer (MKS.L) and Tesco (TSCO.L).
At 0740 GMT, ASOS shares were down 5.9 percent at 1,078 pence, valuing the firm at about 813 million pounds.
(Editing by Dan Lalor) ($1 = 0.6317 pound)
© Thomson Reuters 2023 All rights reserved.