Asia OutDoor recorded more than 16,000 visitors
Trade show Asia OutDoor's growth propels. For its fifth edition, held from July 28 to 31, the Chinese fair saw its attendance jump over one year by almost 14%. The organising company, which forms a joint venture between Messe Friedrichshafen, Knut Jaeger (founder of Big Pack) and Nanjing International Exhibition Center, has recorded over 16,000 visitors.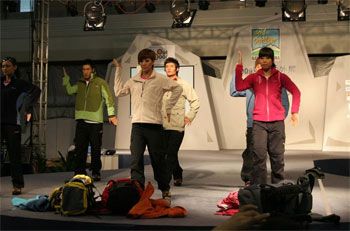 The catwalk shows the latest in outdoor fashion trends
Another record was set by the number of exhibitors, reaching 359, up 24.6% from July 2009. Amongst the exhibitors we are seeing more and more foreign brands such as; Leki, Millet, Gerber and Petzel, who are keen to get a foothold in the Chinese market.
Specialised distributors in China made more than 400 million Euros turnover in 2008. The outdoor market is forecasted to grow by 8-10% between 2010 and 2011. The long-term potential is expected to be significant.
The next edition of Asia OutDoor will be held 27-30 July 2011.
Copyright © 2023 FashionNetwork.com All rights reserved.