Armani taking care of himself, company changes seen
By Marie-Louise Gumuchian
MILAN (Reuters) - Fashion designer Giorgio Armani is reshuffling his agenda to take better care of himself after a bout of hepatitis and will soon announce changes at his company, he told Women's Wear Daily in an interview.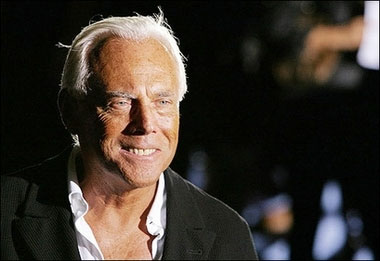 Giorgio Armani - Photo : Carl De Souza/AFP
Armani, widely regarded as the doyen of Italian fashion, did not give details, only saying there will be "some change from a managerial perspective -- moves and promotions -- that will be announced shortly," the publication quoted him saying. The 75 year-old, often called "King Giorgio" in Italian media, revealed in May he had suffered hepatitis.
He has previously kept investors on their toes as to the future of his company, at times hinting at a bourse listing, at times signaling that he could sell his group.
When asked if there had been any recent discussions, he said: "No, not at all. I continue to love my work and, for the time being, I want to continue to enjoy myself and follow my creative impulse."
"Certainly (the illness) was an occasion to think about (the future), but you will understand that in that situation, my priority was to get better," he said.
He said he was working shorter hours. "I realized I had to be more careful," he said.
Armani, known for his classically elegant lines and muted colors in clothes, said he had not changed his design approach given the changing mood in the economic downturn.
"During my 30 years in fashion, I explored many different roads, from minimalism to ethnic, but most of the time, people expect the same style from me and don't understand change," he said. "That's my challenge."
As the crisis saps demand for expensive pieces, many consumers are opting for timeless pieces for their wardrobes and that trend is seen continuing for now.
"I think there will certainly be a wave of simple, minimalist and timeless models," Armani said.
"Then, as always happens in fashion, the pendulum will probably swing in the other direction so that when the economy starts to pick up, we will see a return to glamour."
In his company's annual report, Armani said he sees a further reduction in profit in 2009. Last year, net profit fell to 128.1 million euros ($188.7 million) from 218.7 million euros the year before.
Armani is due to show his spring/summer 2010 womenswear collection later on Thursday 24 September as part of Milan fashion week.
(Editing by Paul Casciato)
© Thomson Reuters 2023 All rights reserved.