Arcandor considered Thomas Cook sale
FRANKFURT (Reuters) - German retail and tourism group Arcandor (AROG.DE) considered selling the roughly 52 percent stake it holds in travel company Thomas Cook (TCG.L) to pay off its debt, a German magazine said on Thursday 28 May.
Arcandor has warned it could go bust within weeks if it did not get more than $1 billion in state aid.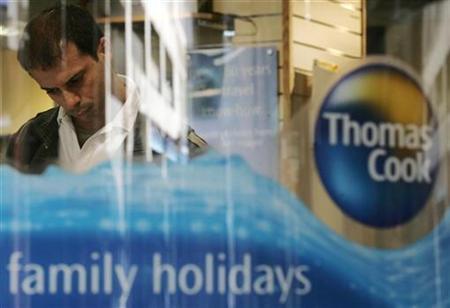 Selling its stake in Thomas Cook, Europe's second-largest travel company after TUI Travel (TT.L), would have "theoretically been the only possible private sector solution," Arcandor Chief Executive Karl-Gerhard Eick told WirtschaftsWoche in an interview to be published on Saturday 30 May.
Several weeks ago, Eick had spoken on the phone to Rewe, Germany's third-largest tour operator, the magazine said, but he was referred to a later point in time.
"Under normal circumstances proceeds of 1.3 billion to 1.4 billion euros would have been possible," Eick said.
With such a step, Arcandor would have been able to bring its debt down to zero and raise capital to fund its restructuring, Eick said.
"But right now, such a price is impossible to get. If I sell now, I wouldn't even be able to pay back the loans," he said.
Arcandor needs to renew credit lines worth up to 710 million euros by June 12 that hinge on government support. A committee is due to discuss the request later on Thursday 28 May. Arcandor said no decision was to be expected from the meeting.
If it was granted state backing, Arcandor could count on support from investors, the magazine said.
Eick told WirtschaftsWoche the company's major shareholders were willing to subscribe to a capital increase of 100 million euros ($138.8 million). Italy's Mediobanca (MDBI.MI) would inject another 40 million euros, Eick was quoted as saying.
Arcandor shares were up 1.45 percent at 2.10 euros by 7:50 a.m. EDT, having risen about 15 percent since the beginning of May.
Rival retailer Metro (MEOG.DE) has proposed combining the two companies' department store chains to fend off government support for its peer, a step it said would distort competition. (Reporting by Eva Kuehnen)
© Thomson Reuters 2023 All rights reserved.