Arcandor CEO opposes possible Metro deal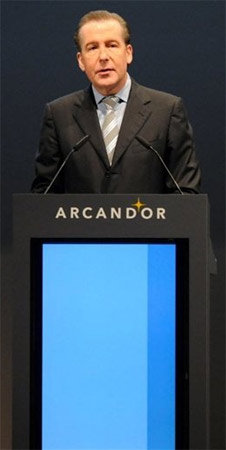 Chief Executive of Arcandor, Karl-Gerhard Eick Photo : AFP
FRANKFURT, May 18 (Reuters) - German retailer Arcandor AG's Chief Executive, Karl-Gerhard Eick, said he opposed Metro AG's proposal to combine the two companies' department store chains, Sueddeutsche Zeitung reported.
Metro's move on its smaller rival was a ill-timed tactical move and an attempt to thwart Arcandor's efforts to obtain state aid, Eick told Sueddeutsche in an interview published on its website late on Monday 18 May.
"Presenting a private solution and thereby preventing guarantees -- that cannot happen," Eick said.
Sources told Reuters on Sunday 17 May that Metro, the world's fourth-largest retailer, was set to hold talks with the German government this week on a plan to create a big player, dubbed "German Department Store Inc."
The new company would combine Metro's department store chain Kaufhof with the Karstadt stores of Arcandor, which plans to apply for state aid later this week as it struggles to secure long-term financing.
As part of the plan, Metro and the owners of Karstadt's department store buildings would each hold just under 50 percent in the company, the sources said.
But the two parties have not yet been in touch about a possible deal.
"So far nobody has contacted me. Not to mention that we have not been presented a concept," Eick told Sueddeutsche.
The newspaper also cited a spokesman for Germany's Federal Cartel Office as saying no merger plans had been filed with the regulator so far.
The prospect of state aid for Arcandor has raised broad criticism from other retailers and politicians, who say Arcandor's problems were not purely caused by the financial crisis -- a condition for tapping the government bailout fund.
Metro earlier repeated it opposed government support for its rival for regulatory and competitive reasons, but said it would be open for talks to help find a solution for Arcandor. The two were not in merger talks, it added.
(Reporting by Maria Sheahan; Editing by Andre Grenon)
© Thomson Reuters 2023 All rights reserved.