Aquascutum does global luxury in delphinium blue
By Paul Casciato
LONDON (Reuters) - How do you take a 155-year-old raincoat maker with a staid image and transform it into a global luxury fashion and retail force?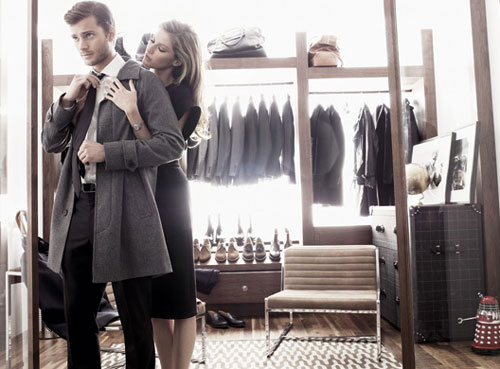 www.Aquascutum.com
The answer, according Aquascutum President and CEO Kim Winser, is to market the heritage, modernise the clothes into objects of desire for sophisticated consumers, reach out to international markets and branch into accessories.
"For me the interesting thing is that a heritage brand is fabulous so long as you totally modernise it," Winser told Reuters after the privately owned British retailer's spring/summer 2009 catwalk show on the third day of London Fashion Week.
Winser said the new collection, which sashayed down the catwalk in flowing white and soft blues, forms the design side of a retail equation that is buttressed by flagship stores and a marketing strategy that has model Gisele Bundchen alongside actor/model Jamie Dornan as the brand's public faces.
"So you put the two things together and you've got a model for a heritage brand," Winser said.
She said this latest collection did not reference a specific time period, though her own timeline to make over a dowdy image that was once favoured by Margaret Thatcher was rather more definite.
"Two years into our five-year turnaround," she said. "Our next stage is to launch the accessories division which is very exciting for us and also the development of more flagship retail."
Winser played down news about the recent sales of other brands by Aquascutum's owner -- Japanese apparel maker Renown -- and shook her head when asked if there was any indication that Aquascutum could go on the block.
"They have sold a few of their brands, but they are ones that they own in Japan only," she said. "We are the only global brand that they own."
She said Aquascutum -- which has positioned itself alongside other heritage-rich rivals trawling the luxury fashion market such as Burberry and Jaeger -- intends to keep buoyant sales growing with retail and wholesale deals in the United States, Russia and the Middle East.
NOW AT SAKS, BLOOMINGDALE'S AND BERGDORF GOODMAN
Winser said the company has launched its products in five stores each at U.S. retailers Saks and Bloomingdale's as well as at the Bergdorf Goodman store in New York.
"Our wholesale business is rocketing," she said.
Sales at home have been strong, supported by consumers visiting Britain alongside domestic clients.
"If you even look at some of the customers that we've had in the last six months in the store this year in Regent Street, we've got a higher proportion of Americans, higher proportion of Russians and Middle Eastern clients," she said.
Winser said flagship store sales last week were 29 percent up on the year and progressively so far this year they have had virtually the same figure. Key accounts at British stores like Harrods are running virtually a third extra business year on year.
That success has convinced Aquascutum -- whose history as a maker of raincoats encompasses royalty, the rich and the famous -- to place flagship stores outside of London.
"The priority cities for us are Milan and New York."
Designer Michael Herz presented a show which mixed Georgette tailoring, lightweight silks with bead work and modern patchwork in a transition on the catwalk that flowed from pure white to cornflower, delphinium and dark blue.
He said the show demonstrated the craftsmanship that Aquascutum is known for in a modern street sport utilitarian way that is right for the moment.
But he also said Aquascutum's strength was its mix of beauty and functionality ... the dress in silk, the airy white trouser suit and a sturdy raincoat to protect it all from the elements.
"It's not just all about chiffon and Georgette and jersey ... as a brand we provide something that is very functional, aesthetically beautiful and has a 100-year guarantee."
© Thomson Reuters 2023 All rights reserved.