American Eagle jumps as chairman buys stock
Mon Sep 26, 2011 - American Eagle Outfitters' (AEO.N) shares rose 10 percent after chairman Jay Schottenstein bought a million shares of the teen clothes retailer, boosting investor confidence in the stock.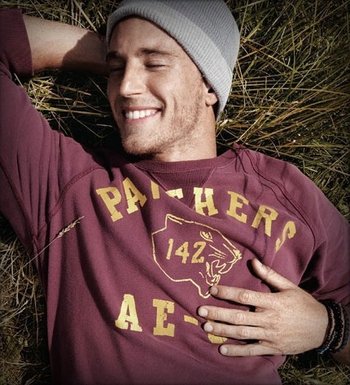 American Eagle FW 11/12
A regulatory filing on Friday showed Schottenstein bought the shares for about $11.2 million.
Director Michael Jesselson also paid about a million dollars for 120,000 shares of the company, which has been looking for a CEO for more than six months now.
"It's not just the buying of the stock, which is obviously good news ... the actual purchasing by insiders leads a lot of investors to believe that the stock is undervalued at these prices," said William Lefkowitz, an options strategist at New York-based brokerage vFinance Investments.
American Eagle shares have lost nearly a quarter of their value since the company announced its hunt for a CEO in March. The teen apparel retailer has been losing market share to more popular rivals like Abercrombie & Fitch (ANF.N), as they head into the winter-holiday selling season.
The stock rose to $12.28 in Monday morning trade on the New York Stock Exchange.
(Reporting by Nivedita Bhattacharjee in Bangalore and Doris Frankel in Chicago; Editing by Sayantani Ghosh)
© Thomson Reuters 2022 All rights reserved.