American Eagle, free of Martin, takes on rivals
SAN FRANCISCO (Reuters) -- American Eagle Outfitters Inc (AEO.N) eradicated a drag on its stock with a decision to kill its struggling Martin + Osa chain, but increasing competition may now give investors pause.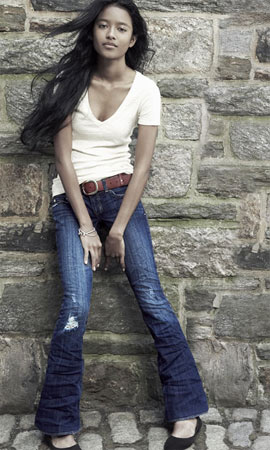 American Eagle Outfitters - Photo: www.ae.com
The teen apparel retailer, which sells relaxed All-American styles to teens through its eponymous chain, is feeling the pinch of a highly crowded teen marketplace that analysts worry will force it to discount and hurt margins further.
Its 28-store Martin + Osa chain, geared toward 30 year-olds, gave it room to operate outside of the teen market. But the underperforming chain never found its groove; American Eagle pulled the plug.
That means the focus going forward is squarely back on the company's main teen chain. It's been turning around its women's wear business -- which accounts for about 65 percent of sales, but with productivity 20 percent below peak levels -- by adding more timely fashions, focusing on value and increasing inventory turns.
"The Street has seen the top line improvement but they haven't really seen the rebound in margins like some companies," said Needham & Co analyst Christine Chen, citing retailers like Gap Inc (GPS.N), J Crew Group Inc (JCG.N) and Urban Outfitters Inc (URBN.O). Chen rates American Eagle "buy."
"The real question is, where does it go from here? I don't really see the path to superior returns once you get rid of Martin + Osa," said Brean Murray Carret analyst Eric Beder.
Some 20 analysts polled by Thomson Reuters I/B/E/S have a "buy" or "strong buy" rating on the company, with another 14, including Beder, rating it "hold."
The impending margin squeeze expected by some could darken American Eagle's comeback story.
While American Eagle gets an immediate lift -- from between 16 to 21 cents per share -- in the first half of 2010 in the absence of Martin + Osa, some on Wall Street are skeptical that improvements can carry beyond the second half of the year.
On Wednesday 10 March, the company reported fourth-quarter profit that met Wall Street expectations, helped by improved sales and fewer price markdowns.
FEELING THE PINCH
American Eagle is squeezed on one side by Abercrombie & Fitch Co (ANF.N), which caters successfully to an older teen or college-age adult market -- and which has begun to lower its historically higher prices to counteract a slump.
On the other side of the price spectrum, American Eagle can't keep up with the current wunderkind of the teen market, Aeropostale Inc (ARO.N), whose low prices have attracted not only its base of younger teens but rivals' shoppers looking to save.
"Eagle loses maneuverability to return to premium returns through pricing," said Beder.
American Eagle, forced to operate outside its comfort zone, now runs more margin-eroding sales on its jeans, hoodies and other merchandise to better match rivals.
Operating margin for 2009 -- which included Martin & Osa -- was 8.4 percent compared with its historical range of 19 to 20 percent. Analysts expect approximately a 12 percent margin for 2010 and the company says it expects "mid-teens" for 2011.
"The discounting model is a tougher model to sustain and tougher to generate premium returns from," said Beder.
Randal Konik, an analyst with Jefferies, agrees.
"A key pressure on gross margins is rising competition from the likes of Aeropostale and Abercrombie & Fitch," Konik wrote in a recent note, citing Abercrombie's move to become more price-aggressive.
Abercrombie is a particular thorn in the side of American Eagle, given the latter company's recent repositioning to raise its target age from 16-year-olds to 18-to-20 year-olds -- putting it directly at odds with Abercrombie.
Still, that decision allowed American Eagle to inject more fashion into its mix, a vital component for a teen player given the success of such fashion-driven retailers as Forever 21 and H&M, or Hennes & Mauritz AB (HMb.ST), said Needham analyst Chen.
And younger customers will shop where older ones do, Chen said, allowing American Eagle to potentially lure away some of Aeropostale's customers should the fashion -- and price -- be right.
Chen said American Eagle's executive creative director, Roger Markfield, has brought structure to what was formerly a confused women's business, adding key items such as sequined tank tops, tiered skirts or faux-fur vests while still retaining the company's trademark relaxed classic vibe.
Shares of American Eagle, which gained 6.1 percent on the New York Stock Exchange on Wednesday 10 March, have nearly doubled since the beginning of 2009. Since 2010, its shares have climbed 7.2 percent. The stock was up 33 cents or 1.8 percent to $18.53 in Thursday (11 March) late morning New York Stock Exchange trade.
(Editing by Edwin Chan and Gerald E. McCormick)
© Thomson Reuters 2023 All rights reserved.