American Apparel lender may offer lifeline
(Reuters) - Dov Charney's American Apparel is a staple of urban hipsters around the world for its colorful T-shirts, spandex leggings and other edgy, "Made-in-USA" retro apparel.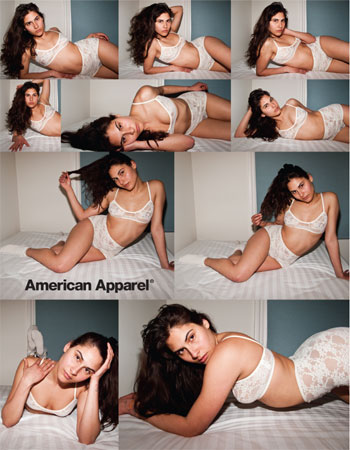 Photo: americanapparel.net
But what the company could really use is a suit -- that is, a button-down, business grown-up type to complement the outspoken, volatile Charney, according to a growing number of people on Wall Street.
Investors' patience with Charney, a self-described hustler and the company's founder and CEO, is waning as the eccentric apparel visionary finds himself in troubled financial situations time and time again, they say.
And yet, Charney may have pulled himself and the company out of another hole, by negotiating a key debt revision with its main lender. Sources close to the company said they fully expect American Apparel (APP.A) and its main backer, British-based private equity firm Lion Capital, to reach an agreement that will prevent the company from a looming debt covenant breach.
One person familiar with the matter said that after weeks of talks, a deal to loosen terms of that covenant is near.
Lion Capital declined to comment, saying it has a policy of not commenting on its portfolio companies.
Even so, many in the industry believe American Apparel can only succeed in the big leagues with a stronger management structure.
"We'd love to see someone with deep pockets come in and get him out of the day-to-day operations," said fund manager Buzzy Geduld of Cougar Trading, who holds shares in the company.
Last month, American Apparel lost nearly half its value when shares fell to $1.63 after announcing it might trip a second-quarter covenant on June 30.
The threat of default comes on the heels of an immigration probe and mass layoffs that led to a wide quarterly operating loss, shrinking margins and "highly uncertain" sales. That in turn has cast a shadow over Charney's long-term hold on his brainchild -- a bastion of anti-establishment cool that advocates immigrant rights, sexual permissiveness and the power of a well-fitting, poly-cotton T-shirt.
At the height of the credit crisis in March of 2009, Lion made a big bet on the manufacturer and retailer, funding a last-minute $80 million loan to American Apparel.
In March this year, Charney said he was "elated" that Lion Capital had loosened a debt covenant set in 2009, prophesizing: "I think we're going to be fine in this area, in the area of covenants."
But two months later, he is back in talks with Lion.
Lion Capital faces a Catch-22 situation even as current negotiations with American Apparel have been "very amicable," according to one source with knowledge of the situation.
American Apparel, whose tube socks, leg warmers and mesh bodysuits have been a counter-culture hit with young shoppers, now has twice been unable to hold up its end of the deal with Lion, and did the same with a previous investor in 2007. But Lion is seen as unwilling to threaten the company with bankruptcy if American Apparel cannot meet its covenant obligations.
While current talks may result in loosened terms this time around, the loan from Lion does not mature until the end of 2013. Further missteps could result in increased concessions -- from higher fees or interest paid by American Apparel, an additional board seat for Lion or more senior management brought into the company.
And if Lion Capital's patience runs thin, it could eventually try to move Charney to a creative role and bring in a new CEO, industry watchers say.
"OFF OUR GAME"
American Apparel's shares traded at an all-time intraday low of $1.14 last week, 70 percent below the year-ago price of $3.85. At their height, the shares were worth $15.80 in December 2007, after blank check company Endeavor Acquisition Corp brought American Apparel public through a reverse merger.
American Apparel, which did not respond to requests for an interview, has said it is fixing its problems, building up its management team and restoring operational efficiency.
But investors, analysts and others consulted for this story complain that unreliable corporate governance and erratic operations make investing in the company a perpetual risk.
"The Street worries constantly about control of this company," said Brean Murray, Carret analyst Eric Beder. "You have a very young CFO, you have compliance issues, you have a company that burns through capital ... Their valuation would be higher if the Street had confidence in their business execution."
Sales have more than doubled since 2006 to $558.8 million but the past year has been hard on the company.
Last autumn, some 1,500 of its workers were let go after a federal investigation revealed questionable documentation. The dearth of workers -- many of them Hispanic immigrants working in its Los Angeles factory for about $12 an hour plus benefits -- sent manufacturing into a tailspin, constricting shipments to American Apparel's retail stores as the company scrambled to rehire and train new workers.
"We made some mistakes. We are off our game but we are going to get back on our game," Charney told investors in May.
Montreal-born Charney owns 53 percent of the company. But Lion's leverage in the current situation is considerable.
"Lion has a huge stick, and I would argue it's overdue," said Stifel Nicolaus apparel analyst Richard Jaffe.
But there are also limitations to any outcome with an agreement that gives Lion warrants to purchase about 18 percent of American Apparel at a $2 exercise price and bars the company from voting Charney off the board.
That makes it unlikely that Lion would want to push American Apparel into bankruptcy, eroding Charney's equity stake and its own. The lien is also backed by nearly all American Apparel's assets, which means inventory (last year's T-shirts anyone?).
A key fix could come from adding more senior personnel, whether a chief operating officer or head of stores. That is where experts see Lion forcing Charney's hand if it chose to.
Another point of focus could be Chief Financial Officer Adrian Kowalewski, 32, hired in late 2008 after a quick succession of CFOs. Sources called Kowalewski smart and talented, but in over his head, given the recurring problems.
American Apparel has had success with general counsel Glenn Weinman, a respected hire who has done damage control and worked on compliance issues. A spate of sexual harassment lawsuits against Charney midway through the decade that have since been settled or dismissed appears to have abated.
Charney has denied those allegations and said the open mores to which he subscribes at his company, including having served as the fit model for underwear, are misinterpreted.
"Probably lenders will give them more leeway based on the fact that Dov isn't running around in his underwear anymore," said one person who has had dealings with the company and requested anonymity.
TALENTED YET TOXIC
Charney is not the first apparel brand CEO deemed talented yet toxic. Industry experts cited Michael Ball, who grew his Rock & Republic brand into one of the top sellers of jeans that cost more than $200, before it filed for bankruptcy earlier this year.
But others said American Apparel could take a page from blue-jean companies like True Religion (TRLG.O), Joe's Jeans (JOEZ.O) and Guess (GES.N), whose creative founders brought in experienced financial foils as their companies grew.
"That (True Religion) is the case study for how you do it right," said one investment banker. "Bring in the suits."
That banker, who is active in the apparel industry, believes Charney is key to the company, and will not be replaced, but rather complemented by a stronger team.
As analyst Beder explained: "At the end of the day, if Dov has to give up some controls he'll be happier and the company will be more profitable."
Keeping Charney free to create is paramount, say former employees and others who have worked with him, who become almost reverent when discussing what they call his inspiring vision for domestic apparel manufacturing and immigrant rights and passion for his work.
But the unorthodox working culture has its downside.
"I was inspired every time I walked the factory floor but everyone has their breaking point," one former employee said. "The company is built so he can be the king of the castle where all ideas funnel to him."
Former employees said Charney's championing of the blue-collar workers at his factory contrast with the low compensation and high demands placed on the creative staff.
One former staffer said most of the strongest employees have left, leaving Charney surrounded by less experienced staff who don't know how to translate fashion into sales.
"Just like a lot of people in the fashion world, he got sucked into thinking he was a fashion icon," said this source. "I think he has this idea that he can do it all on his own and have a bunch of creative kids around the office."
That may be why the company has veered away from its strength in basics to sell more complicated, higher-priced clothing. At a recent store visit, jodhpurs and embellished blouses were on display, with some items costing as much as $79. Charney recently told analysts it takes up to 40 people to make a pleated pant.
"They're trying to be a fashion brand. And they're having sewers who are good at T-shirts make pants," the former employee said. "They're hard to make and hard to sell to a lot of people. A lace bodysuit isn't for everyone."
Same-store sales -- a measure of strength for retailers -- were negative in 11 out of 12 months in 2009. They were down 10 percent in the first quarter.
But men's trend analyst Tim Bess of The Doneger Group said American Apparel should be well positioned for fall 2010 and spring 2011, given that "very clean, very simple" is in.
"We're going back to a minimalist feeling in color, we're anti-print and we're talking a lot about color. American Apparel comes to mind," Bess said.
LONG TERM SOLUTION?
American Apparel says it is hiring approximately 100 people a week to bring its factory back to capacity and improving productivity at stores, which have doubled since early 2007. The company now operates more than 285 stores in 20 countries, including China.
But spending is capped under the loan agreement with Lion. That deal calls for no more than $27.5 million in capital expenditures per year for 2010 and 2011 and $30 million in each of the following two years.
Lion will still hold American Apparel on a tight leash, even if it gives the company more breathing room. The original agreement called for a 1.70 to 1.00 debt to consolidated EBITDA ratio for the quarter that ended June 30. That was loosened to 1.90 to 1.00 in March, still considered to be strict.
Bankers say a more typical covenant ratio for senior secured debt for public companies is 2.5 to 1.00 or looser.
But as investors await a new deal between American Apparel and its lender, some wonder how long the company can continue to scramble. The deal with Lion was supposed to offer "a long- term solution," as American Apparel announced in March 2009, when Lion refinanced the company's debt.
More than one source interviewed for this story remarked that it would be a shame for American Apparel to fail, given its role as the largest apparel maker in the United States still making its clothes inside the country.
Others see an end to the heady, early days of American Apparel, when workers envisioned "an industrial revolution of sewing."
"Did Dov believe everything he was saying or did we just believe him and it was a good business decision of his?" asked one former employee.
"Maybe he became a megalomaniac and he lost the message."
(Additional reporting by Emily Chasan in New York; Editing by Jim Impoco, Bernard Orr and Maureen Bavdek)
© Thomson Reuters 2023 All rights reserved.