Abercrombie & Fitch preps for its holiday test
When shoppers hit the stores on Black Friday, Abercrombie & Fitch will face its biggest test this year as the preppy clothing retailer tries to prove the value of its cachet in teenage apparel to investors.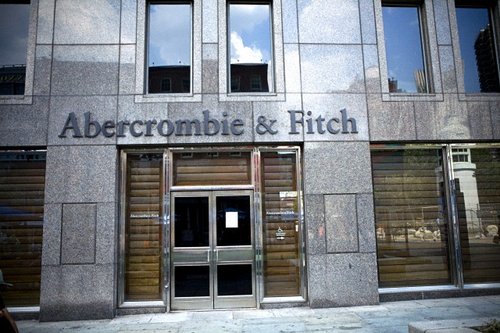 Photo: Corbis
Abercrombie, the biggest of the teen clothing retailers by sales, has lost about 38 percent of its value since it warned in early November that European sales growth was slowing. Shares of rival American Eagle Outfitters were up less than 1 percent and shares of Aeropostale Inc rose 8 percent in the same period.
"Every investor is sitting on the edge right now ...They are definitely going to look more carefully at (Abercrombie's) holiday sales," said Michael Bigger, founder of trading firm Bigger Capital.
European sales matter more to Abercrombie than to other teen clothing retailers. It is a source of higher margins for Abercrombie, which has made the continent the focal point of its international expansion. Business outside the United States accounts for about 25 percent of Abercrombie's sales.
But the retailer discounted too much in the United States while it raised prices too high in Europe. The first action sliced into its profit margin; the second slowed down sales.
It is also making experts rethink Abercrombie's status as the strongest teen retailer.
"I would have said Abercrombie is the strongest were it not for the exposure to Europe and the need to potentially lower prices there over the next few months given shopper reactions," said Rahul Sharma, managing director of investment management firm Neev Capital.
Chief Executive Mike Jeffries said the company "left dollars on the table" as it discounted too much in the United States. He also said he plans to raise prices, a strategy that many analysts fear could boomerang if its peers sell right merchandise at cheaper rates.
The owner of the Hollister and Abercrombie brands must prove to investors that the brand is not dependent only on promotions in its home market.
All that makes it more important for the company to do well at home with healthy sales regardless of discounts, and with high margins.
"If U.S. trends remain strong, it is a positive indicator in the sense that the fashion is OK and the European issues are more to do with aggressive pricing and the macro environment," Sharma said.
However, given the brands are mature in the United States, it really takes an improvement in Europe to help the stock price, he said.
Caris and Co analyst Dorothy Lakner is not worried. "Pricing is a lot easier and faster to fix than product, which is not an issue at Abercrombie," she said.
A BROKEN SECTOR
Teen clothes retailers have been struggling with rising input costs such as cotton and freight, while having to discount to lure shoppers who are trying to save money.
Earlier this month, Abercrombie said it expected gross margins to stay weak during the fourth quarter, which could imply that it can't raise prices much in the holiday season.
"The sector's broken and ...they will stay like that for a while," former Citibank head trader Michael Bigger said. "The values are still not so attractive... as a trader, I'm not so interested in the sector right now."
Bigger said he would consider buying Abercrombie if the stock starts trading below $40. It was trading at $45 on Wednesday.
Stores like Aeropostale have announced 50 percent off discounts, and J.C. Penney, Costco and TJX's T.J. Maxx and Marshalls chains have purchased many teen brands at attractive wholesale prices to pass the benefit to shoppers, said Munir Mashooqullah, chief executive of Synergies Worldwide, an apparel sourcing agent.
Mashooqullah expects smaller vendor and wholesaler profits and lower retailer margins as they cut prices to keep sales and market share high.
Specialty teen clothes retailers must fight department chains like Macy's, discounters like Target and even tablet makers like Apple and Amazon for shoppers' cash.
Retailers also must deal with specific problems from pricing to inventory to merchandise. While Abercrombie works on its pricing, Aeropostale must deal with too much unsold merchandise.
"When you walk into their stores, they have the most promotions, and their Christmas floorset was not up until about a week or two after Abercrombie or American Eagle," said Morningstar analyst Jaime Katz.
"I went down to Michigan Avenue and Eagle and Abercrombie both had the new, full price merchandise on the floor, but Aeropostale was still trying to wash out some of the fall inventory before they put out fresh things out," she said. (Reporting by Nivedita Bhattacharjee in Bangalore; )
© Thomson Reuters 2023 All rights reserved.