Zimbabwe mining industry deregulated
HARARE (AFP) - Zimbabwe's gold mines are dusting themselves off after the unity government deregulated the industry, ending a two-decade state monopoly on buying the precious metal after years of plunging production.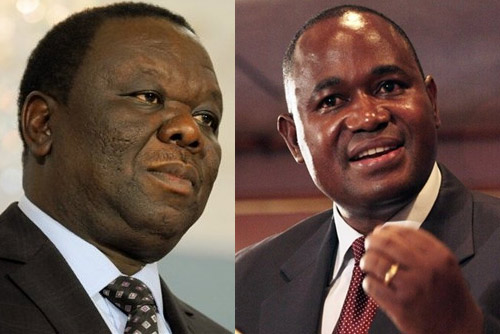 The Prime Minister of Zimbabwe, Morgan Richard Tsvangirai (left) and Gideon Gono, Governor of the Central Bank of Zimbabwe (right)
Gold remains one of Zimbabwe's top exports, but output has tumbled as miners complained that the Reserve Bank -- the only authorised buyer for 21 years -- offered unfair prices and then delayed on payments, or failed to pay entirely.
Mining operations have also been hamstrung over the last decade by nationwide power cuts and severe shortages of foreign currency, needed to buy and maintain equipment.
That's slowly changing since the unity government between long-ruling President Robert Mugabe and his one-time rival, Prime Minister Morgan Tsvangirai, de-regulated the industry in March.
Now miners are allowed to market their gold freely and to retain all their earnings, whereas previously the Reserve Bank pocketed a percentage.
"During the first three months of the year nothing was happening in the gold mining industry, but there is renewed confidence and optimism in the gold mining sector since the deregulation," said Joseph Malaba, chief executive officer of the Chamber of Mines.
"There is increased output when compared to the start of the year when there was nothing," he told AFP.
No gold was lodged for sale in the first quarter of the year, but in April and May miners brought in 600 kilogrammes, according to the chamber.
Last year the country produced only 3,576 kilos of gold -- compared to a peak of 27,108 kilos in 1999.
Some miners are selling their gold through the chamber. Other firms are exporting directly to South Africa, and local banks have also indicated their interest in becoming gold buyers.
Blanket Mine, which shut down last year, resumed operations in April and expects to produce 24,000 ounces (680 kilogrammes) by September this year.
The mine, owned by Canada's Caledonia Mining, has so far sold 766 ounces of gold to Rand Refineries in South Africa.
The president and chief executive officer of Caledonia, Stefan Hayden, said he hoped that there would not be a policy shift by the government.
"Provided a stable operating and monetary environment is maintained in Zimbabwe, it is hoped that commercial lending activities can resume which will allow Blanket to realise its next operating goal of becoming a 40,000-ounce per annum gold producer in 2010," he said in a statement.
Turk mine, owned by Canada's New Dawn Mining, has returned to full operations and plans to produce at least 1,150 ounces of gold by October.
The uptick gives a glimmer of hope in a country desperately searching for signs of a turnaround in a once-vibrant economy that collapsed over the last decade under world-record hyperinflation that impoverished the nation.
Since joining the unity government, Tsvangirai has pledged to rebuild the economy in a nation where unemployment is at 94 percent and half the population depends on international food aid.
He is embarking on a foreign tour this week to convince western donors to open their pocketbooks despite their reservations about Mugabe's continued role in government.
Zimbabwe says it needs 8.5 billion dollars over three years to revive the economy and the civil service, including schools and hospitals, but has yet to win major direct aid to the government.
Reviving key industries like gold mining would help Zimbabwe earn more revenue itself, if it can keep policy on a steady course.
"We are now operating in vastly changed conditions," said John Nixon, deputy chairman of Rio Zim, one of the country's biggest producers.
"The company was being steadily robbed of its lifeblood" under the previous regulations, Nixon said in a notice to shareholders.
"We are at last benefiting from the gold price after almost 10 years of prejudice."
Copyright © 2023 AFP. All rights reserved. All information displayed in this section (dispatches, photographs, logos) are protected by intellectual property rights owned by Agence France-Presse. As a consequence you may not copy, reproduce, modify, transmit, publish, display or in any way commercially exploit any of the contents of this section without the prior written consent of Agence France-Presses.