Zilver opens London store alongside S/S collection launch
Following the success of its London pop-up store in October, Pedro Lourenço's sustainable label Zilver has just opened its first flagship location in Soho.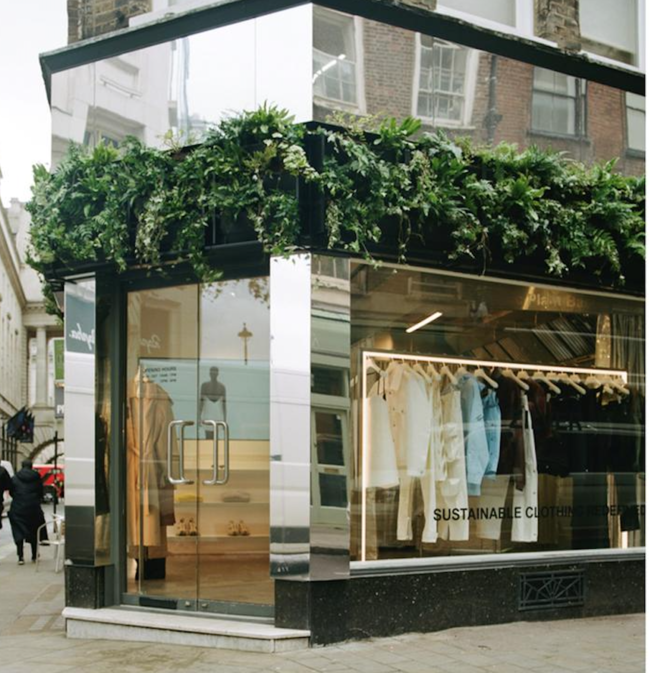 The Air Street store's opening coincides with the launch of its spring/summer 2022 collection 'Virgo 1'. This will be followed by 'Virgo 2' for FW22.

Lourenço said the brand doesn't follow fashion calendar convention, "opting to present a range of seasonal clothes alongside flagship exclusives". 

And launching in-store alongside the ready-to-wear collection are exclusive hybrid pieces, including a trench coat transformed into a jumpsuit with zips, a bomber jacket that becomes a vest and skirts that evolve into trousers, and vice-versa, by the application of a central zipper.

While the new store takes its place in the "broader retail scene" it also nods to the "subversive fashions that frequent the streets of Soho and its collections", the company said. 

Feature-wise, the store's exterior has a vertical living garden "bringing [to] the concrete jungle of Central London a much-needed injection of vibrancy while absorbing carbon dioxide". Recycled aluminium columns also frame the entrance. 

In another nod to the neighbourhood — this time to Soho's "infamous neon lights" — the store's aluminium clothing rails are embedded with LEDs "to delicately light up the clothes while simultaneously referencing the brand's futuristic approach".

Glass spans the storefront "offering a looking glass into the curated selection of clothes on offer". Floor-to-ceiling mirrors at the rear of the store are met with a supersized screen displaying Zilver's runway and original (repurposed) elements from the store's previous life. 

Meanwhile, a kitchen extractor fan has been fashioned as the store's changing room area, adorned with silver curtains, akin to NASA fabrics. 

Lourenço said: "The shop represents a momentous stage for the brand. After testing the retail experience, we understand that the products attract enough attention to warrant a store. It happened organically. Our pop-up was an organic trial and it gave the customers a chance to connect with the brand beyond the digital world. We live in such a digital world and everything is focused on shopping online; there's something grounding about being able to experience and try on clothes in a physical space."
Copyright © 2022 FashionNetwork.com All rights reserved.