WTO to rule on China complaint over EU shoe imports
By Jonathan Lynn

GENEVA, May 18 (Reuters) - The World Trade Organisation (WTO) will rule on a dispute between China and the European Union over shoe imports which has pitched European producers against consumer groups and companies with operations in China.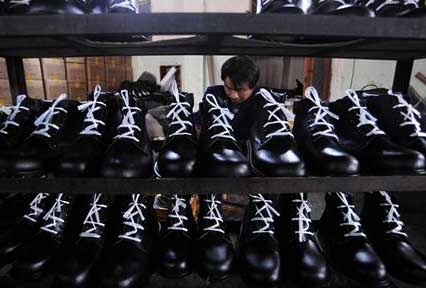 Photo : Reuters
A meeting of the WTO's dispute settlement body decided on Tuesday 18 May to set up a panel to rule on the case after consultations between China and the European Union failed to resolve the matter. The dispute brought by China -- its second at the world trade body against the European Union -- challenges anti-dumping duties imposed by the EU of up to 16.5 percent on shoe imports from China and 10 percent on those from Vietnam. A Chinese official told the meeting the EU duties had hurt the jobs and livelihoods of 150,000 people working in leather footwear.
"China wishes to further emphasise that the EU anti-dumping measures have a very serious impairment on the interests of Chinese industries," he said.
WTO rules allow members to impose duties on goods that are "dumped" -- sold for less than they cost to produce -- if that hurts businesses in the importing country. However such anti-dumping measures can be abused to protect local industries and are one of the most frequent sources of trade dispute.
"The European Union takes this opportunity to recall that the anti-dumping measures for which China is now seeking a panel are not about protectionism, but about fighting unfair trade," EU trade lawyer Sybilla Fries told the meeting.
CONTINUING DEFICIT
China is the European Union's second largest trade partner after the United States, with bilateral trade of 326 billion euros ($404.8 billion) in 2008. But the EU runs a huge trade deficit with China.
It was China's second request for a panel after the EU vetoed a first attempt on April 20. Under WTO rules a respondent in a dispute can block the creation of a panel once, but must allow it to go ahead at the second bid.
China launched the formal dispute in February after ministers from the EU's 27 members extended the duties by 15 months in December.
European shoemakers, especially in Spain and Italy, argued they could not compete with cheap imports from China and Vietnam.
The duties were controversial within the EU. Both consumer groups and shoe producers with operations in China opposed them.
The Federation of the European Sporting Goods Industry (FESI), whose members include companies such as Adidas (ADSG.DE), Puma (PUMG.DE) and Nike (NKE.N), launched a legal case against the European Union in March complaining they had suffered losses as a result.
Dispute panels are usually formed within a month, and then aim to rule on cases in two months.
Vietnam, also targeted by the EU duties, has not challenged the EU move. But one of two further disputes that went to a panel at Tuesday 18 May's meeting including the first complaint Hanoi has brought to the WTO, over U.S. anti-dumping measures on imports of shrimp.
One of the issues in Vietnam's complaint is the controversial U.S. method of calculating anti-dumping duties known as zeroing, which repeatedly has been condemned by WTO courts and is rejected by all its 153 members except the U.S.
Zeroing is the focus of the third dispute to go to a panel on Tuesday 18 May -- a complaint by South Korea over U.S. duties on steel imports.
But South Korea found itself on the other side of the argument when Indonesia complained to the meeting that Seoul had failed to implement previous rulings that found its anti-dumping duties on Indonesian paper to be illegal.
Indonesia said it reserved its rights in the case, raising the possibility it would seek to retaliate against South Korea.
(Editing by Stephanie Nebehay; Editing by Michael Roddy)
© Thomson Reuters 2023 All rights reserved.