WTO allows Brazil $300 million sanctions in US cotton row
GENEVA (Reuters) - Brazil can retaliate against the United States with sanctions worth roughly $300 million a year, under a WTO ruling on Monday 31 August in Brazil's six-year-old dispute with the United States over U.S. cotton subsidies.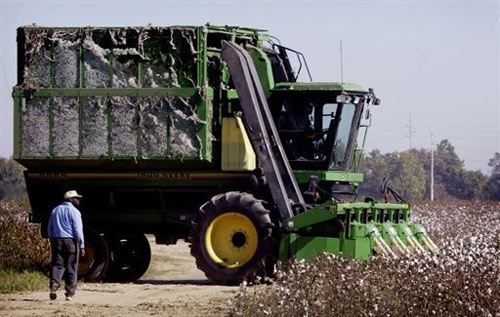 Photo: AFP
The World Trade Organisation also said that in certain circumstances Brazil can "cross-retaliate" -- targeting U.S. services or intellectual property, for instance lifting patent protection on pharmaceuticals, rather than simply raising tariffs on U.S. goods which could hurt its economy.
The compensation was about one tenth of what Brazil had sought -- and 10 times what the United States had suggested.
"While we remain disappointed with the outcome of this dispute, we are pleased that the Arbitrators awarded Brazil far below the amount of countermeasures it asked for," U.S. trade spokeswoman Carol Guthrie said in a statement.
POLITICISED ISSUE
The complex WTO arbitration ruling brings to a climax one of the most politicised disputes in WTO history, launched in 2002, which goes to the heart of developing countries' calls to reform world trade in agricultural goods.
Brazil is the plaintiff in this case, but U.S. subsidies have affected cotton producers all over the world, especially in sub-Saharan Africa, where the entire gross domestic product of most cotton exporters is smaller than subsidies paid by the United States to its 25,000 cotton farmers.
The United States is also under pressure to cut cotton subsidies in the WTO's Doha round on a new trade deal, on which key ministers are meeting in Delhi this week.
Brazil had sought $2.5 billion in annual retaliatory trade sanctions in the dispute but the United States had said a figure of $20-30 million was appropriate.
In the event, in one 132-page ruling, the WTO said Brazil was entitled to annual retaliation of $147.3 million because of the impact of U.S. marketing loan and counter-cyclical payments.
In a second 152-page ruling, the WTO said Brazil was entitled to compensation for U.S. "GSM 102" payments, which guarantee short and medium-term export credits. This compensation would be $147.4 million for the fiscal year ended September 2006, and set by formula for other years.
Cross-retaliation would be possible if compensation in a given year rose above a certain level of imports of U.S. consumer goods, the WTO said.
Brazil previously asked the WTO to arbitrate on compensation in 2005, seeking $4 billion in annual retaliation at that point.
But the two countries agreed to suspend the arbitration process while the WTO examined whether the United States had complied with earlier rulings against its subsidies.
After the United States lost an appeal in those hearings last year, Brazil asked for the arbitration to resume.
Brazil had also argued in the original case that the export credit guarantees also distorted trade in other agricultural commodities such as rice, poultry and pork.
By Jonathan Lynn
© Thomson Reuters 2022 All rights reserved.