Wedding bells, family fetes buoy Paris fashion
PARIS (Reuters) - Parisian haute couture shows usually include one wedding dress; Elie Saab's featured more than a dozen, to the delight of his family-oriented core clients.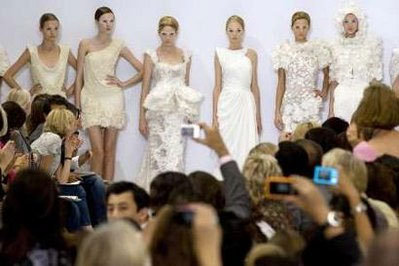 Models present creations by Lebanese designer Elie Saab as part of his Autumn/Winter 2009-2010 Haute Couture fashion show in Paris - Photo: REUTERS/Pascal Rossignol
Purity and femininity inspired his all-white collection of soft dresses that fanned out in swishing mousseline skirts so full they made several models trip, the Lebanese designer said at his show in Paris Tuesday 7 July.
But the demands of his most resilient fan base -- wealthy families shopping for wedding dresses -- may also have been on his mind when he designed lacy empire gowns and bustier dresses embroidered all over with sequins, matched with a bolero.
"We've been visiting his shows for years, we bought a wedding dress for my daughter three years ago and now we're looking for one for my other daughter," said Zeynep Carmikli from Istanbul, sitting in the front row with her two daughters.
The Middle Eastern and Turkish wedding market has buoyed many haute couture houses, especially those who don't have profitable ready-to-wear or accessories lines and rely on clients who actually buy their 30,000-euro ($42,000) dresses.
Carmikli's married daughter, Selin Kozak, said she expected that demand to weather the crisis.
"People are probably buying less now, but if you want something good you go to the best place," she told Reuters.
In the haute couture tradition, every show closes with a bridal gown.
Tuesday (7 July) night at Chanel, a giant white perfume flacon slid open to reveal a kissing bride and groom to a soundtrack of wedding bells, while Christian Lacroix sent out a bride covered in flowers, necklaces, gold embroidery and a white headdress.
In times of uncertainty, as economic crisis combines with changing dress codes and a trend toward less formal wear, that end of the collection may hold up better than, say, tea dresses or embroidered trouser suits.
Saab himself had another explanation for his all-white theme.
"I chose the white because it is a plain color, it helps the woman showing her own character more than any other thing. I left all the space for the character of the woman wearing the dress," he told Reuters.
(By Sophie Hardach. Editing by Matthew Jones)
© Thomson Reuters 2023 All rights reserved.