Weak economy a dark shadow over Milan's catwalks
By Marie-Louise Gumuchian
MILAN (Reuters) - Milan Fashion Week starts on Wednesday under an economic cloud that has led to a cut in the number of catwalk shows this year and prompted a weakened Italian clothing sector to seek state aid.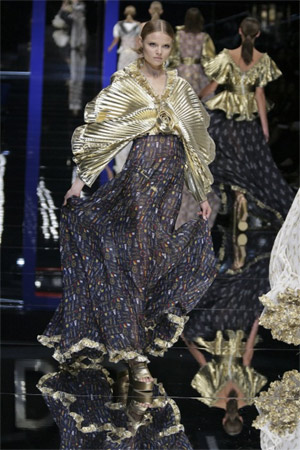 D&G spring-summer 2009 - Photo : PixelFormula
Just under 80 fashion houses will send their models down the catwalk during the Autumn/Winter 2009/2010 womenswear fashion week, which begins on Wednesday and ends on March 4.
While top names such as Giorgio Armani, Versace and Gucci will each hold two runs to present their designs, there are about 10 fewer catwalk shows during the week, according to Italy's National Chamber of Fashion.
In a sign of the times, more brands are opting for presentations, which are less expensive than runway shows.
And just days before it was due to run, Roberto Cavalli canceled his show for the youthful Just Cavalli brand following troubles at distributor Ittierre. His main Roberto Cavalli show is still planned.
"There are less catwalk shows but more presentations," the chamber's chairman Mario Boselli said last week, adding there would be more brands presenting overall during the week.
"Milan has 10 more collections than before the crisis. People do not have the negative sentiment that they had before Christmas which affected January's (menswear) shows."
This comes after 20 percent fewer shows at the Autumn/Winter 2009/10 menswear fashion week in January, Boselli said.
Luxury brands have not been spared by the global economic turmoil and the sector has been hit by growing evidence of restrained spending even among the super-rich.
Italy's fashion industry has followed in the steps of the auto sector and is calling for government help as the global crisis sweeps into demand for clothes and accessories.
In a senate hearing last week, the head of Sistema Moda Italia, which represents the textile and clothing industry, warned of risks for the sector and called for government help.
The chamber added weight to that call and the Industry Ministry is to hold a meeting on the sector this week.
Turnover for Italy's fashion industry is expected to fall 5 percent this year to 63.2 billion euros ($80.98 billion), according to the fashion chamber.
Larger players look better able to weather the storm and observers see smaller and family-run companies being the hardest hit as production capacity outpaces demand.
This month, IT Holding, owner of fashion brand Gianfranco Ferre, requested special administration for its Ittierre unit that distributes goods for brands such as VJC Versace and Just Cavalli.
While Just Cavalli canceled its show, Gianfranco Ferre said its catwalk run was going ahead as scheduled.
Young designers will start Milan's fashion week, with the major names hosting their shows later.
While the context remains gloomy, celebrities are of course expected to add glamour during fashion week. Soccer player David Beckham, currently on loan at AC Milan, delighted crowds in January with his appearance at the Emporio Armani menswear show.
(Editing by Paul Casciato)
© Thomson Reuters 2022 All rights reserved.