Volcom Q4 earns miss estimates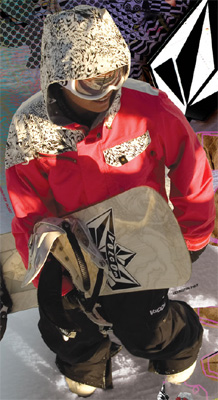 www.Volcom.com
* Q4 EPS of 14 cents vs est of 16 cents/shr
* Q1 earnings view miss estimates
* Cuts 8 pct jobs, salary for CEO by 15 pct * Shares down 9 percent
(Adds conference call details, updates share movement)
Feb 19 (Reuters) - Surfing-inspired apparel maker Volcom Inc (VLCM.O) posted lower-than-expected quarterly earnings, as costs increased, and also forecast first-quarter earnings below analyst estimates, sending its shares down 9 percent.
The Costa Mesa, California-based company, which also cutback about 8 percent of its domestic workforce, said it would not provide annual outlook anymore, given the "lack of visibility into future business."
Volcom cut salaries for its Chief Executive by 15 percent, for its senior management by 10 percent, and implemented salary cuts throughout, CEO Richard Woolcott said on a conference call with analysts.
"Taken together, these initiatives are expected to translate to meaningful cost savings... and should also reduce our consolidated selling, general and administrative expenses for 2009 below that of 2008," Woolcott said.
Selling, general and administrative expenses for 2008 was $1.12 billion.
Woolcott also said the company has no debts and has a current cash position of $80 million.
Chief Financial Officer Doug Collier said revenue from Pacific Sunwear of California (PSUN.O), its largest customer, fell 27 percent to $10.4 million in the quarter.
Revenue from PacSun accounted for 16 percent of the company's total revenue for 2008.
Mall-based retailers from department stores to specialty chains like Zumiez Inc (ZUMZ.O) and Pacific Sunwear of California Inc (PSUN.O) that carry Volcom's clothing have also seen falling sales in the recent past, on being hurt by the ongoing consumer slump.
For the fourth quarter ended Dec. 31, Volcom earned 14 cents a share, excluding charges, against analyst estimates of 16 cents a share.
Revenue rose slightly to $69.6 million, from $69.1 million in the year-ago quarter.
Including charges, the company posted a loss of $8.7 million, or 36 cents per share.
Total operating expenses for Volcom, which sells clothes for action sports like skateboarding, surfing and snowboarding, more than doubled to $42.7 million.
Shares of Volcom were trading at $7.82 after the bell. They had closed at $8.56 Thursday on Nasdaq. (Reporting by Nivedita Bhattacharjee in Bangalore; Editing by Amitha Rajan)
© Thomson Reuters 2023 All rights reserved.