Vintage jewels gain popularity as investments
By David Brough
LONDON (Reuters) - Rare vintage jewels are increasingly popular investments to protect against rising inflation and economic uncertainty, and Art Deco designs are commanding the most attention from collectors.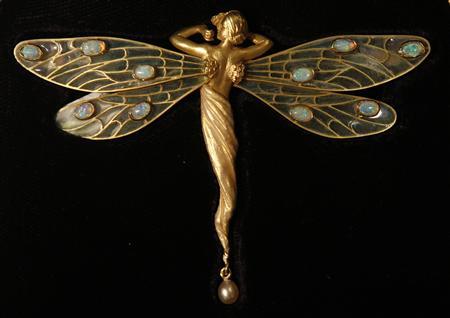 "There are a lot of people now with jewels in their safes for a rainy day," said Carol Woolton, Jewellery Editor of British Vogue, a top fashion and lifestyle magazine.
Signed, classic Art Deco Cartier or Van Cleef & Arpels pieces are among the most prized assets, she said.
"If you have classic vintage Cartier or Van Cleef pieces of the 1930s, signed, they will never drop in value."
Bentley & Skinner, an established retailer in London's premier jewelry quarter on Bond Street, is renowned for its antique jewels, including some superbly hand-crafted Victorian, Art Nouveau and Art Deco pieces.
Senior sales representative Stanley Lester said the credit crunch had not crimped spending, although footfall had eased off.
"Regular customers who come in are spending a similar amount to before the credit crunch," he said.
"Art Deco is without doubt the most popular. It never really went out of vogue. Many Americans are looking for jewelry of the Art Deco period. Many customers are looking for Art Deco engagement rings. Victorian pieces are also extremely popular."
The focus on quality, design, craftsmanship and precious gemstones during the Art Deco heyday of jewelry design in the 1920s and 1930s was unparalleled, Bond Street jewelers say.
And these days, it is harder than ever to find the supremely precious Art Deco pieces, whether branded or unnamed -- which pushes their value higher.
Investors are scouring collectables markets for assets that will hold their value against rapidly rising prices, and antique jewels fit the bill because of their intrinsic beauty and increasing scarcity.
Vintage jewels especially from the 1920s from houses such as Black Starr & Frost, Boivin, Boucheron, Bulgari, Cartier, Janesich, Lacloche, Mauboussin, Raymond Yard, Sterle, and Van Cleef & Arpels, have always had a strong following, said Francois Curiel, chairman of Christie's Europe and international head of the jewelry department.
"More so today as examples from this period have become more and more difficult to find."
Van Cleef & Arpels, founded in Paris in 1906, is one of the oldest French fine jewelry houses, based on the Place Vendome.
Celebrated for its sophisticated, feminine designs and thorough craftsmanship, Van Cleef & Arpels, a unit of luxury group Richemont and now present in some 70 locations around the world, said sales had held up despite the credit crunch.
"So far there has been no impact," said Geoffroy Medinger, brand director UK of Van Cleef & Arpels on Bond Street. "We know that the big pieces never really stop selling because they are considered investments."
Van Cleef & Arpels jewelry represents the biggest turnover among estate jewelry pieces sold by the auction houses Christie's and Sotheby's.
PROVENANCE ADDS VALUE
Curiel said the provenance of a jewel can greatly add to its value as an investment.
"An important diamond, colored gemstone, or jewel will always fetch market price but that plus a noteworthy provenance could change the value of a jewel tenfold or more," he told Reuters.
"In April 1998, we offered for sale in New York the Argentine sapphire and diamond flag brooch that previously belonged to (former Argentine first lady) Eva Peron with a pre-sale estimate of $80,000-120,000. It sold for close to $1 million and the provenance had everything to do with it."
More recently, the Napoleonic pearl also known as La Regente weighing 302.68 grains achieved $2.5 million against an auction estimate of $500,000 at Christie's in November 2005, Curiel said.
In Dubai, the Umm Kulthum necklace (9 rows of Indian natural pearls), estimated at $80-120,000, went for $1.3 million in April this year.
Like art, vintage jewelry moves in and out of fashion. British Vogue's Woolton said: "One year it might be Art Deco, another year it might be costume jewelry."
FABERGE, MAGNET FOR RUSSIAN COLLECTORS
Bentley & Skinner has also seen steady demand for its rare Faberge pieces, dating from around the turn of the 20th century, especially from Russian collectors seeking to reclaim their heritage.
"Demand has been fairly constant," said Lester. "We sold a fine original Faberge bell-push recently -- turn of the 20th century, gold and enamel with semi-precious stones. It sold to a Russian buyer for 65,000 pounds."
Van Cleef & Arpels has also seen strong interest in contemporary pieces with an Art Deco feel like the diamond Zip Necklace, a functioning zipper which can be converted to a bracelet, said to have been inspired by an idea of the Duchess of Windsor.
The Bond Street boutique recently had a Zip Necklace for sale at 500,000 pounds.
Besides Art Deco designs, Art Nouveau fine jewels, dating from the late 19th century, are much sought-after and Victorian fine jewelry is hot because of its rarity and high quality.
"You tend to find that women would buy Art Nouveau jewels for themselves," Lester said. "It is much more flowery and feminine than Art Deco. Men often would prefer to buy Art Deco jewels for women."
(editing by Sara Ledwith)
© Thomson Reuters 2023 All rights reserved.